It was in 1920 that Peter Pantages, founder of Vancouver's Polar Bear Swim Club, led a hardy group of swimmers who all plunged into English Bay on New Year's Day. There were 10 participants back then and now, 99 years later, over 2,000 people participate in this local tradition each year.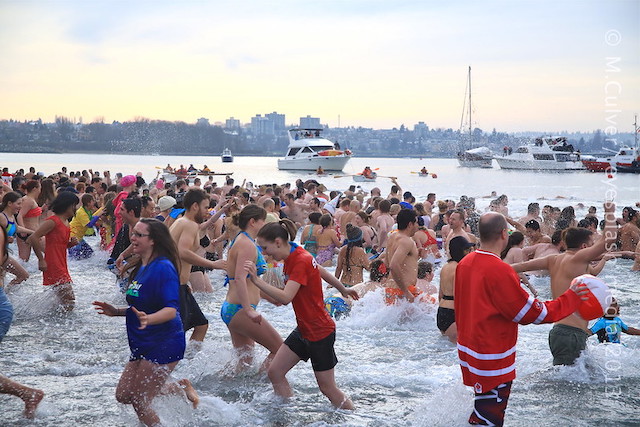 100th Annual Vancouver Polar Bear Swim
The Vancouver Polar Bear Swim takes place at 2:30pm on the first day of each new year. Costumes and the Peter Pantages Memorial 100 yard swim race are the highlights of this event. To be a club member you must register before the swim, it's free. Prizes are drawn from all registrations. Festivities will run from 12:00pm to 4:00pm at English Bay.
Polar Bear Swim North Vancouver
Deep Cove Panorama Park hosts the annual Penguin Plunge on January 1st from 12:30pm to 3:00pm, with the plunge promptly taking place at 2:00pm. Enjoy live music, food and refreshments. Participants can collect pledges for their plunge, with proceeds going to the Royal Canada Marine Search & Rescue Stn 2.
Delta
Join the 40th Annual Polar Bear Swim at Centennial Beach (Boundary Bay Regional Park) on Sunday, January 1, 2020. Registration starts at 12:00pm and the Polar Bear Swim is at 1:00pm.
Port Moody
Take the Penguin Plunge in Port Moody at 1:00pm on January 1st at the Rocky Point Pier (2800 block of Murray Street). Registration opens at 11:00am and costs $5/individual and $10/family. There will be prizes for best costume (team and individual). This event, hosted annually by the Pleasantside Community Association, is a New Year's Day tradition in Port Moody.
White Rock
It's back after taking the year off last year due to storm damage at the White Rock Pier. Celebrate 50 years of White Rock's Polar Bear Plunge with a chilly dip into Semiahmoo Bay on January 1st at noon. Join other plungers and 1,000+ enthusiastic onlookers for this New Year's Day tradition. Costumes are "mandatory" and prizes will be awarded. Registration at 10:30am and the official plunge takes place at 12:00pm. Meet at the WHITE ROCK east of the Pier.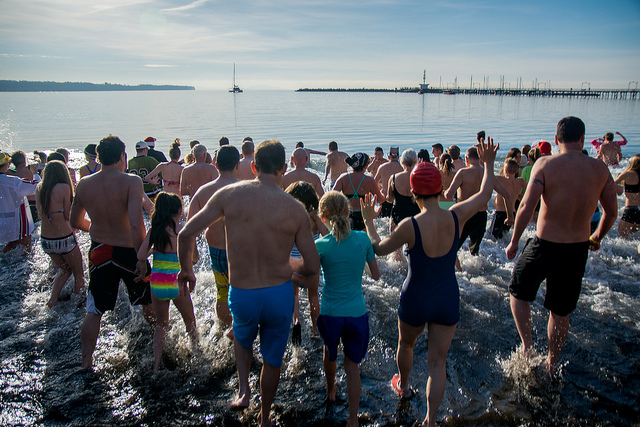 To celebrate the 50th anniversary, there will T-shirts and commemorative toques for sale, and there will be coffee and hot chocolate available by donation. Free parking available along the White Rock Waterfront until January 31, 2020.
Langley
Take a wintry dip in an unheated outdoor pool! The Polar Bear Plunge will take place on New Year's Day (12:00pm to 12:30pm) at the Otter Co-op Outdoor Experience at the Aldergrove Credit Union Community Centre (27032 Fraser Hwy, Aldergrove). The first 150 people to register will receive a 2020 Polar Bear Plunge crest.