On November 22, 2004 I wrote my first blog post. It didn't start out by saying I was going to be a blogger now. Instead, I talked about the rain and how I liked to go for walks with my sister in the the aforementioned rain. 15 years later, while I no longer provide recaps of The Amazing Race or talk about the DVD I just rented, I still talk about the city, going for walks, and my family. I had no idea what I started way back then, but I knew it was something I wanted to do every day.
Please join me on November 14, 2019 to celebrate this thing I created, that I hope has become a part of your life in Vancouver as well: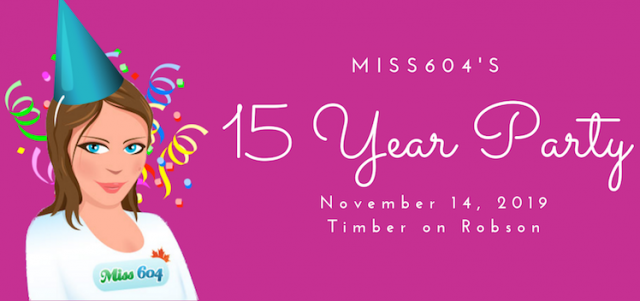 Celebrate 15 Years of Miss604
Where: Timber (1300 Robson at Jervis, Vancouver)
When: Thursday, November, 14, 2019 from 6:30pm to 9:30pm
Tickets: A limited number of $20 early bird tickets are available until October 8th then regular tickets will be $26.04.
Tickets include admission, a drink ticket (Red Racer Beer or wine), canapés crafted by Timber (including a s'mores bar) and a door prize ticket.
Proceeds from the incredibly STUFFED raffle and silent auction will be donated to Variety – the Children's Charity of BC, who will be on site as well.
Prizes include goodies from: The Cultch, DanceHouse, Disney on Ice, Early Music Vancouver, Forage, Gateway Theatre, H2 Rotisserie & Bar, Les Ballets Trockadero de Monte Carlo, PuSh Festival, Rob Cole Stretch Therapy, TD Vancouver International Jazz Festival, Vancouver Canucks, Vancouver Christmas Market, Vancouver Opera, Vancouver TheatreSports, Vancouver Whitecaps, and more!
Thank you to Teresa Trovato PR, Vancouver TheatreSports, SnowSeekers, Red Racer Beer, MPMG Arts Marketing, Hartley PR, and Cactus Studios for signing on as sponsors. Sponsorship spots are still available (please email Party at Miss604 dot com).
It hasn't always been easy. It's been an evolution (like when that whole "social media thing" started a few years in). But it's been oh-so-rewarding. This is my 9,707th blog post. I'd love to write another 9,707 more, especially if it means I can continue to support the community that I love. I hope to see you on November 14th for the #Miss604Party!