It's become a tradition in Vancouver towards the end of the year: The leaves start to fall, Halloween costumes are being planned, and the holidays are right around the corner, and I get to purchase my Hope in Shadows calendars from my local vendor.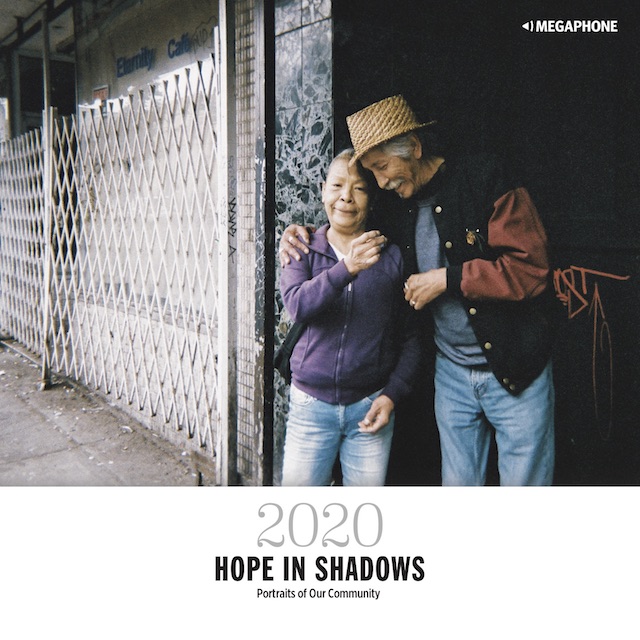 Hope in Shadows: Low-income Photographers Share Stories through Their Own Lens
Hope in Shadows is a photography project that shares the stories of homeless and low-income people through their own lens, and in its 17-year history, it has put more than one million dollars directly into the pockets of people experiencing poverty in BC. In an award ceremony in the Downtown Eastside this morning, Hope in Shadows launched what's expected to be another busy season of street vendor sales for the iconic community project and calendar.
The calendar challenges stigma around homelessness and poverty by making space for people to share their own stories through photography. Street vendors who sell the calendar – all people impacted by poverty – take the photographs in a 5-day contest each spring using single-use disposable film cameras.
This year, vendors were asked to capture images on the theme of "Belonging". After narrowing down roughly 1,500 photographs to a Top 30, a community jury and public vote selected 13 photos to make up the 2020 calendar.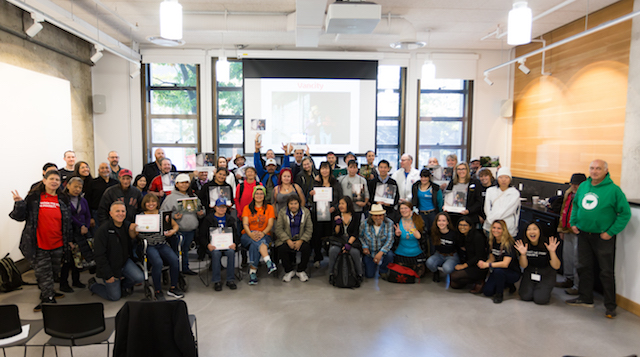 The 2020 Cover Photo
The winning photo and cover of the 2020 calendar was taken by vendor Arden Gillespie (Kispiox). Called " Best Friends," it's a portrait of a couple, Jeremiah Kitch Kessic (Lakota, Sioux and Cree) and Auntie M (Coast Salish) outside of the Savoy Pub on East Hastings.
Photographers are involved further in the calendar's creation, with each photographer and anyone captured in a photograph invited to share the story behind the image. It's an important avenue for self-expression for those whose voices are often silenced and ignored.
Hope in Shadows is a project of Megaphone magazine, a non-profit that offers meaningful work to people experiencing poverty and homelessness.
People with low-income work as vendors, selling the monthly Megaphone magazine and annual Hope in Shadows calendar on the streets of Vancouver and Victoria to make community connections and earn income. Vendors buy each calendar for $10 and sell it to customers for $20. They keep the profits. It's flexible work for people who may have barriers to traditional employment.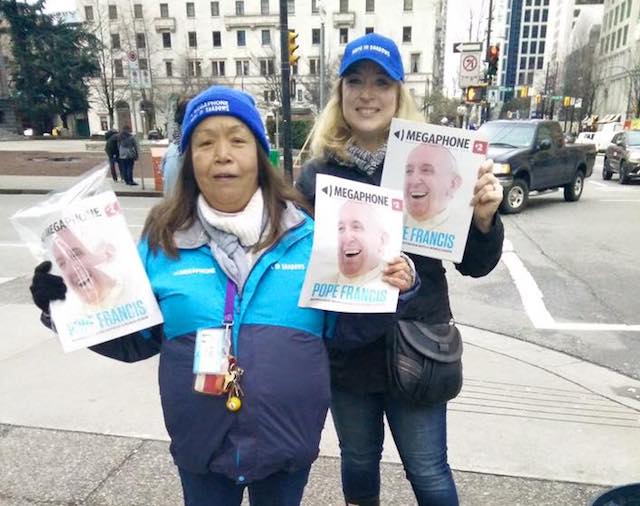 A few years ago I got to partner up with a Megaphone vendor and sell copies of the magazine in front of the Vancouver Art Gallery. Janet had an incredible story and it was an honour to tag along with her for the day.
As of today, Megaphone street vendors in Vancouver will sell the calendar as long as supply is available. Customers can find and pay vendors directly with their smartphone using the Megaphone App, available for free download from the iTunes and Google Play stores, or find where vendors usually sell by looking at the map online. Follow Megaphone on Twitter and Facebook for more info.