Vancouver's Megaphone magazine has become the first street paper in the world to create and release a mobile phone application to make it easier to find and support a vendor.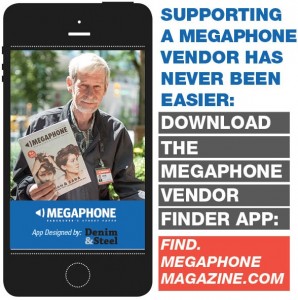 Published by the non-profit Street Corner Media Foundation, Megaphone helps homeless and low-income individuals earn their own income, allowing them to purchase and re-sell the magazine.
Roughly 40 homeless and low-income Vancouverites sell Megaphone, which is published every two weeks. They buy each issue for 75 cents and sell it for $2—keeping the profits.
I had the honour of writing an article for Megaphone, back in 2009, and I love supporting the work that they do to enable the community.
Designed by Denim & Steel, the new Megaphone app will make it easier for locals to find a vendor near them, with a regular schedule and location, so they can purchase the magazine. Simply click on the map of Vancouver in the app to pinpoint your ideal location and a vendor listing will appear with the vendor's name, photo, and scheduled time.
Follow Megaphone on Twitter and Facebook to learn more about the app launch and the publication, and be sure to check out the free app.