From the corn field to the streets of Gastown, you can find family-friendly, slightly spooky, or or ultra scary events, tours and attractions around Metro Vancouver this season:
Forbidden Vancouver Walking Tour
Where: Cathedral Square
When: Every night October 14-31, 2019
Tickets: Available online for $25-$28
Details: Relive the dark history of Vancouver's earliest years on the Lost Souls of Gastown. From the tragic story of the "woman in the well" to the gruesome murder of gold prospector John Bray, the Lost Souls of Gastown weaves a tale through back-streets and alleyways to a dramatic finale in historic Maple Tree Square. Designed for adult audiences, the Lost Souls of Gastown is both a walking tour and a theatre piece – led by one of Forbidden Vancouver's cast of professional actors.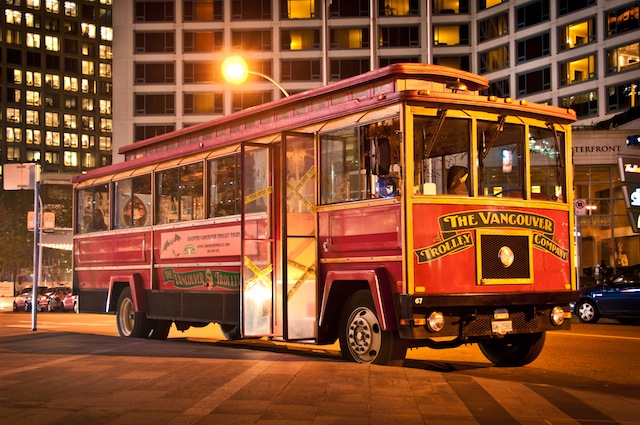 Haunted Vancouver Trolley Tour
Where: Departing from Canada Place
When: October 11th-31st (no tours on October 13th and October 14th)
Tickets: Available online now for $59 ($40 with promo code Haunt 40 before October 8, 2019)
Details: Hop on a Vancouver trolley and your host will tell the historic crime tales that took place in familiar neighbourhoods of Stanley Park, Gastown, Shaughnessy and more. You will drive by eerie locations and hear gruesome stories about Seaforth Armory, Gabriola House and local socialite Janet Smith's untimely death. The tour stops to visit Prospect Point in Stanley Park and Mountain View Cemetery in East Vancouver where the troubled spirits occupy their time. Your tour walks through the cemetery to visit the graves of some of the souls that have been featured throughout the tour.
Ghostly New Westminster Walking Tour
Where: Start from Hyack Square
When: Every Saturday at 8:00pm (Mon, Wed-Fri Halloween week)
Tickets: Available online for $23
Details: The original capital of BC, New Westminster has a lot of history, and a lot of dark secrets. Join a spine-tingling 90 minute walk and learn the chilling history of BC's "hanging judge", one of BC's oldest houses, a haunted tattoo parlour and much more. ​Not recommended for anyone under the age of 12. All minors must be accompanied by an adult.
Haunted Corn Maze at Maan Farms
Where: Maan Farms (790 McKenzie Rd, Abbotsford)
When: Thursday through Sunday until November 2, 2019
Tickets: $20-$38 available online
Details: Maan Farms Haunted Corn Maze is a heart-pounding adventure featuring nightmare-ish installations, shocking visuals, live actors, chainsaws, and excerpts out of classic horror movies. Participants will not be touched in the corn maze. To amp up your multi-sensory experience, try the 15 minute Pitch Black attraction.
Potters House of Horrors
Where: Potter's House of Horrors (12530 72 Ave, Surrey)
When: October 4 to November 2, 2019
Tickets: Available online now
Details: The "scare crew" at Potter's spends months planning this annual maze of terror — complete with the latest high-tech animatronics and digital sounds. There are two ultra-scary haunted houses to explore (if you dare), including the "Death Valley Motor Inn" (new for 2019) and Li'l Haunters which is a cute, not-too-scary pair of mini-haunted houses.
Haunted Village at Burnaby Village Museum
Where: Burnaby Village Museum
When: October 25-28, 2019 from 6:00pm to 9:00pm
Tickets: Available online now, free for members
Details: Watch out for black cats, huge yellow moons, over-sized pumpkins and all things that could go BOO! Come have a ghost of a time at this local historic site in the heart of Burnaby.
For more events, tours, shows, and fun things to do, check out the October event list for Metro Vancouver here »