Vancouver artist David Wilson is hosting a pop-up art exhibition on Granville Island featuring his latest collection of paintings.
Those familiar with David Wilson as a chronicler of Vancouver's cityscapes may be surprised by the painter's latest exhibit. Long known for his gorgeous, sometimes noir-ish urban scenes, Wilson has turned his eye to one of the Lower Mainland's most recognizable natural landmarks—The Lions.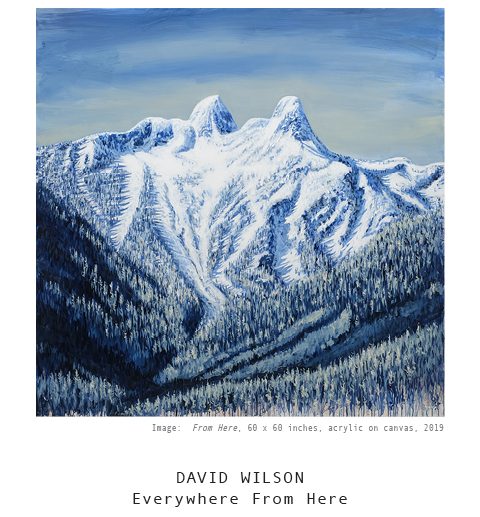 David Wilson Presents Everywhere From Here
When: October 24 to November 5, 2019; Pop-up Gallery 11:00am to 6:00pm or by appointment
Where: 1387 Railspur Alley, Granville Island, Vancouver
In his latest exhibition of paintings, Everywhere From Here, Wilson takes those twin summits rising high above Vancouver as his starting point.
First, there are the Lions themselves, presented in a painting in all their majestic blue-and-white glory. In the rest of his suite of work, Wilson imagines the city as seen from the vantage point of the mountains. Viewers will recognize these scenes of downtown Vancouver, while seeing the city in a new way.
"All the other works are subjects that figuratively unfold in the city under their gaze," he said. "I don't know that you can actually see The Lions from each location, but in essence they fall under the view of those peaks."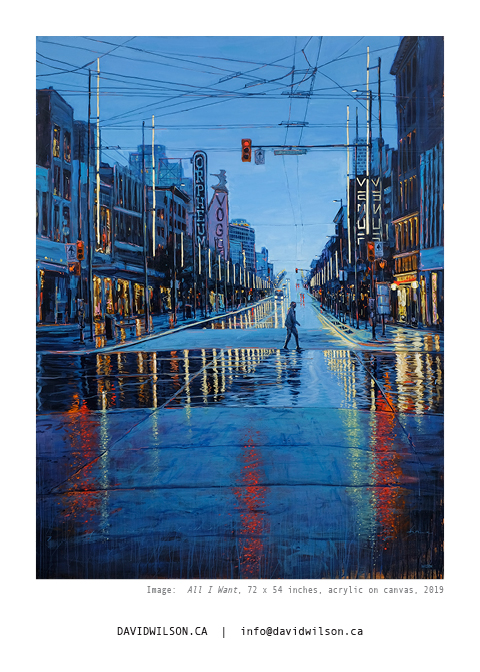 Along with a fresh perspective, Everywhere From Here marks another significant change for Wilson. Following representation by local galleries for over 25 years, he is taking advantage of Granville Island's open-door policy for artists to show their work to present Everywhere From Here in a pop-up gallery space located on Railspur Alley.
Visitors will find work by an artist engaged in his subject on a deep, thoughtful level. "Even though viewers may see a familiar and even comforting landscape, my work is largely about change and decay," Wilson said. "All my subjects are transitory. And as I present this exhibition this autumn, I think of something naturalist Bruce Beehler's recently said: '[W]e should take note of and cherish the riches offered by nature's changing seasons — the unusual surprises, as well as the benign predictability of the stately annual process. The transition from summer to autumn has close parallels with the passage of our own human lives. We should seize the moment. Live each day with passion. Savour each season's natural transitions. Make the ephemeral eternal through the richness of preserved and cherished memory.'"
For more information follow David Wilson on Instagram, Twitter and Facebook.