Small Business BC presents INSPIRE, an evening of networking, inspiration and meaningful panel conversations addressing the positive impact that businesses and entrepreneurs can have on climate change. The panel will also discuss how starting as a sustainable business or adapting new green technologies and operations has allowed for increased business success and profitability.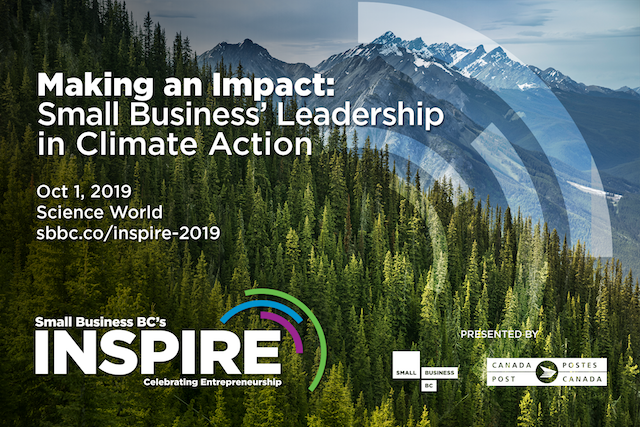 Small Business BC Presents INSPIRE 2019
Where: TELUS World of Science (1455 Quebec St, Vancouver)
When: Tuesday, October 1, 2019 from 5:30pm- to 10:00pm
Tickets: Available online now for $75 plus fees
The 9th Annual INSPIRE will feature complimentary drinks, canapés, networking, and an interactive panel session as we gather to recognize the important contributions of small businesses to our local economy and our local communities.
Meet the Small Business community, hear from BC's most successful entrepreneurs and celebrate the launch of the Small Business BC Awards.
Small Business Leadership in Climate Action Panelists
Gerry Egan, VP of Maintenance – Harbour Air
Emily Pearson, Manager of Energy and Environment – Vancity
Ellen Walker-Matthews, VP Destination & Industry Development – Thompson Okanagan Tourism Association
Brianne Miller, Owner – Nada Grocery
Christine VanDerwill, Manager of Partnerships and Communications, Climate Smart
The goal of the event is to spark creativity and motivate attendees to look at their business practices and evaluate where change can be made no matter how small, benefiting their bottom line and helping fight the progression of climate change. Additionally, the connections that attendees make throughout the course of the evening will help to foster future collaboration between small businesses and enterprise level organizations, creating measurable impact.
Follow Small Business BC on Twitter and Facebook for more info.
Related: Check out my Small Business BC feature here »