Preparing for a camping trip for me has never been as easy as "here are your keys", which was our experience when John and I landed at the airport in Whitehorse and met up with Andrew from Overland Yukon/Van Life Yukon. We woke up in Vancouver, flew to the Yukon, and were soon heading down the Alaska Highway to Kluane National Park to camp for a few days.
Camping at Kluane National Park
Forests of Trembling Aspens, glacier-fed lakes with sandy beaches, and mountains on either side of the valley that catch the morning – and midnight – sun on their vertical facades.
Kluane National Park and Reserve is part of a UNESCO World Heritage Site that is the largest internationally protected area in the world. It's an honour to park a camper in the middle of this incredible beauty – and to be able to have such amazing amenities and resources.
We drove our camper up to our site at Kathleen Lake Campground, which also features a Day Use Area with a picnic shelter/info cabin, firewood, drinking water, and a nightly interpretive campfire talk at 8:00pm. There are bear-proof recycling and garbage bins, well-maintained sites, and food lockers for secure storage.
Our van had a sink and faucet, plenty of storage space, an axe that cut wood like butter, sleeping bags, pillows, a full utensil drawer, camp stove, table, chairs – it was like the Swiss Army Knife of camper vans. It was even solar-powered so we could charge any electronic devices we had and also plug in a cooler to keep our perishables. You can also rent a Jeep with a rooftop tent from Overland Yukon – and pick that right up from the airport too!
Take a Hike!
Want to explore an area with over 18 trail networks and 17 of the nation's tallest 20 mountains? Go out with a guide! We met up with Kat from Mount Logan Lodge. After a delicious sandwich lunch (packed with herbs from the lodge's garden) she took us out to Rock Glacier, in view of Dezadeash Lake. We took our time, strolling over the boardwalk in the woods, flanked by Highbush Cranberry and Labrador tea shrubs.
The route turned upward, where stairs led to shale-covered paths, discernible only by how worn the lichen was on the bright red rocks. We gained about 300ft in elevation.
Kat was a great guide who provided everything I look for in a leader on a new-to-me route: Information about the flora and fauna, knowledge of the terrain and trail, a healthy fear of Grizzlies, a pack full of equipment, and even protein bars and water in case we didn't have our own provisions.
I asked her about her favourite hikes and she said that King's Throne is the popular one around there (like the Quarry Rock of Kluane, featured in many an Instagram pic) but she prefers Sheep Creek (on Sheep Mountain) when she goes out at her leisure.
Provisions and Facilities
Haines Junction is your main hub for groceries (at the Little Green Apple), info and history (at the Da Ku Cultural Centre), and that much-needed post-camping espresso from Village Bakery and Deli. It's also where we turned south on the Haines Highway and head down to Kathleen Lake (just 20 minutes away). We stopped into the Da Ku Cultural Centre every day before or after our outings to either get more information, maps, ask advice, and to learn about the Champagne and Aishihik First Nations.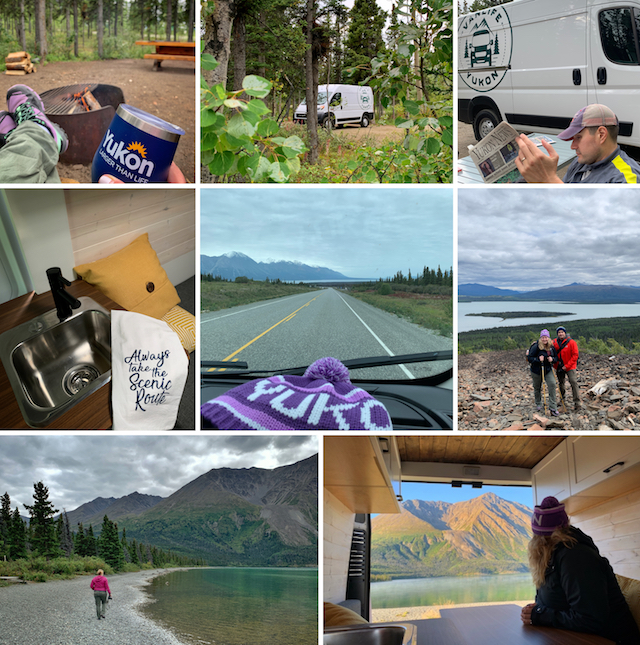 If you're going to camp in the Yukon, I would recommend you go between May and August, which is when most things will be open and when you are less likely to encounter freezing temperatures. During the day it was about 15C in late August and we did hit about 3C at night with some frost on our window in the morning. Nothing a warm campfire couldn't soothe!
In the summer the Yukon is also home to a sun that barely sets. At the time we went, we did get some complete darkness starting around 11:30pm so we weren't kept up too late. I couldn't help look at the rose-coloured sky through the skylight as I drifted asleep.
Follow more of my Yukon adventures in my new series, browse John's photos on Flickr, and contact Tourism Yukon if you'd like to plan your own experience. They can be found on Facebook, Twitter, and Instagram.