Celebrate Richmond's historical connection with the sea at this free family event at a National Heritage Site! The 16th annual Richmond Maritime Festival, happening July 27 & 28 at Britannia Shipyards, will have music, storytellers, dancers, drummers and more.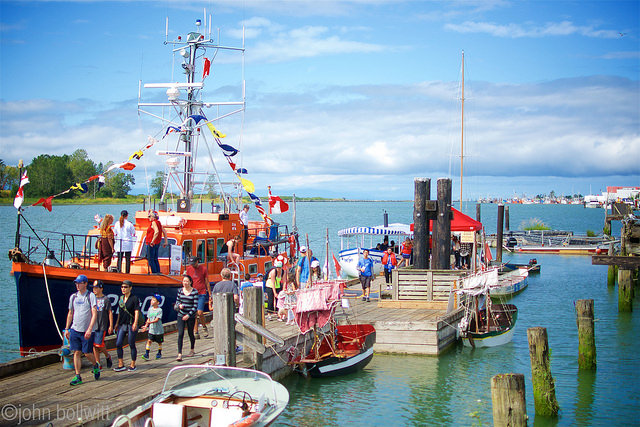 Richmond Maritime Festival
Where: Britannia Shipyards National Historic Site in Steveston (5180 Westwater Dr)
When: 11:00am to 6:00pm Saturday, July 27 and Sunday, July 28, 2019
Who: Performers include: Wooden Horsemen, Bobs & Lolo, Beauty Shop Dolls, Flint & Feather, Will's Jams, Tetsu Taiko, Jocelyn Petit Band, Brian O'Brien, The Seabillys, Blackthorn, Coastal Wolf Pack, Langley Ukulele Ensemble, Jessica McMann, Lola Parks, Sarah Wheeler Band, Trevor Cook, Bottom Shelf Bourbon Trio, Shawn Bullshields, and more
The Richmond Maritime Festival celebrates all things waterfront at the Britannia Shipyards National Historic Site. From wooden boats to model boats, water safety to sea creatures, local lore to fishing history, the festival invites visitors to explore a spectacular heritage site and enjoy music, games, interactive exhibits, roving performers, street food fare, and ship boarding experiences. Bring a picnic blanket to enjoy the music and some tasty treats from vendors. Explore the historic site and
New This Year
Paddlewheeler Dinner Cruise: The dinner cruise is Saturday, July 27th at 5:30pm. Enjoy a 3-hour evening cruise along the beautiful Fraser River, including a delicious buffer dinner with meat and vegetarian options, aboard the M.V. Native, an authentic replica of a paddlewheeler, or sternwheeler that plied the Fraser River in British Columbia from 1863 until 1921.
Sunset Battle of the Tall Ships: Friday, July 26th and Sunday, July 28th from 6:00pm to 9:00pm. A thrilling Tall Ship Battle featuring the Lady Washington and the Hawaiian Chieftain will take place off the shores of Garry Point Park. Featuring booming cannons, close-quarters maneuvers, and a taste of 18th century life aboard tall ships, guests can experience the ships in action as they vie to win the battle. You watch from the shore at Garry Point Park with performers and food trucks, or take your adventure to the high seas and watch the action from aboard one of the ships!
There's also the new Richmond Tourist Shuttle that's running between several key locations this year including the Lansdowne Canada Line Station and Britannia Shipyards.
Follow the Richmond Maritime Festival and Fun Richmond on Facebook, Twitter, and Instagram for more information and to share your photos from the event.
Miss604 is a proud sponsor of the Richmond Maritime Festival