I host speaking engagements and workshops several times a year, from local universities and educational institutions, to corporate events, tutorials and info-sessions. My goal though is to attend a conference or workshop myself at least once a quarter so that I can continue to learn and grow. When The Digital NonProfit Conference approached me to attend their event on June 11th at the Roundhouse in Yaletown I was in!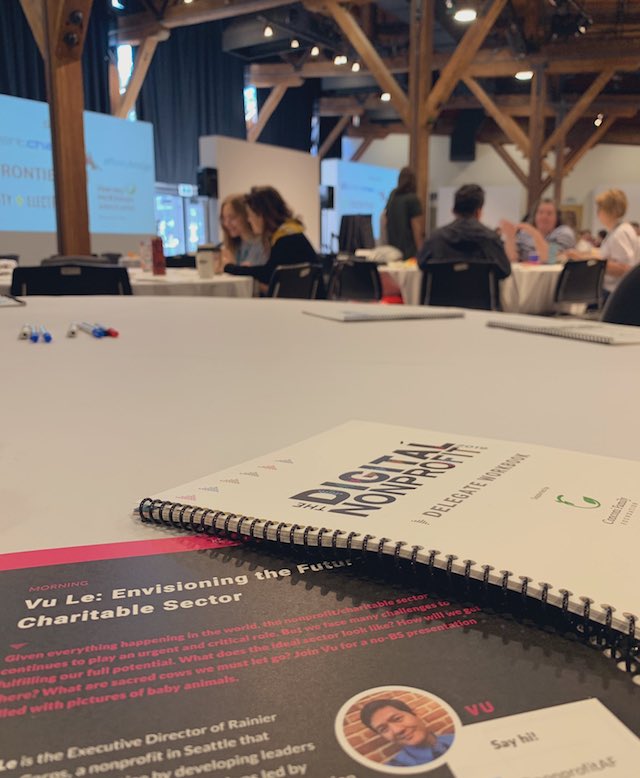 I've been on the board of two nonprofits in the last 3 years, and I'm currently the Secretary of the Board of Directors of Variety – The Children's Charity of BC (as well as their Marketing Committee Chair and Membership Committee Chair). As such, I invited Cally Wesson, CEO of Variety to come along with me. Here are a few takeaways I had from the event:
5 Takeaways from The Digital NonProfit Conference
When one of your conference's core values is "good food & great company". #dnp2019 #goodfoodforlife pic.twitter.com/HZnaKBepn0

— NetSquared Vancouver (@net2van) June 11, 2019
1. NetSquared knows how to organize a conference! It started with a seamless sign-in process where everyone stepped up to an iPad and printed off a name sticker on a repurposed lanyard, followed by selecting a pronoun pin to attach to it. The booklet was awesome, with room for bios, notes, and talking points. Then there was the flow of the event, with ice breakers, fascinating topics, speakers, the seemingly endless supply of coffee, food trucks outside at lunch and an Earnest Ice Cream stand inside. Afternoon sessions with a side of sundae? Yes please.
2. "The shortest distance between two people is a story." I love this. Thanks to Nicole Jones from Tech Soup for sharing this during her lightning talk.
[New Idea] "Use a Google form to make it easy for anyone in your organization to tell or share a story" – Nicole Jones @nicjonestweets @TechSoup #DNP2019 #nonprofit pic.twitter.com/ttWvLnWBSv

— NetSquared Vancouver (@net2van) June 11, 2019
3. This checklist for nonprofits, thanks to Vu Le.
Great insights from @nonprofitAF RT @sparkandco: Here's your checklist #Dnp2019 pic.twitter.com/iz4bkEtcSv

— Rebecca Bollwitt (@Miss604) June 11, 2019
4. Email engagement is huge for nonprofits: It keeps you in touch with members, sponsors, supporters, and especially donors. Megan McCaffery presented some tips on writing and designing engaging campaign emails:
5. Social media for social good is a thing that people still don't get. As one participant (Claire) noted: Facebook has been around for 15 years and organizations are still trying to convince execs to use it for their cause. I've been running social campaigns for social good ever since I blogged for 24 hours straight 12 years ago with Blogathon and raised $400 for the Surrey Food Bank. The following year, in 2008, I raised $7,000 for the Union Gospel Mission in 24 hours. Yes, social media for social good has been a thing for over a decade.
Look at incredibly visible and successful campaigns like #BellLetsTalk. Follow expert (and conference speaker) Beth Kanter for her insights. She is the go-to in this arena and it was amazing to see her on their conference agenda for not one but two sessions.
If you would like more information about this event and others in the nonprofit space, follow NetSquared Vancouver on Facebook and Twitter. They also host regular #Tech4Good meetup events.