"Let's go find some waterfalls," is a totally reasonable reply to: "What are we going to do today?" when you're in the Crowsnest Pass area of the Canadian Rockies. I was on assignment with ZenSeekers, and that sounded like a pretty good daily goal to me as we drove across the BC border to Alberta.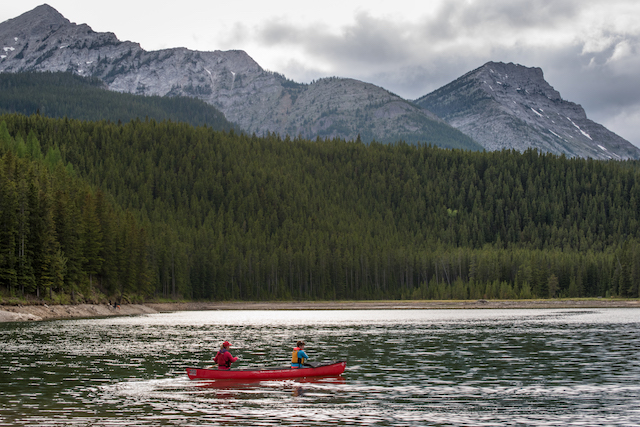 The key to exploring a new area is to a) check out the local fly shop or café and ask around for some ideas and b) book a tour with someone who knows the area inside and out. With ZenSeekers, I did both. The crew met up with Susan Douglas-Murray from the Crowsnest Cafe and Fly Shop (in Coleman), then Jessica from Stone's Throw Cafe (in Blairmore) and Heather Davis from Uplift Adventures. Here are three things I learned about exploring the Crowsnest Pass area through fishing, hiking, and paddling.
Fly Fishing in Crowsnest Pass
Aside from learning how to cast properly, which is a complete skill set on its own, Susan taught me to look for bubbles in the stream. This is where insects are most abundant on the river so chances are that's where the fish are looking too. In the Crowsnest River you can catch Rainbow Trout or the elusive and indigenous Cutthroat Trout. Susan's biggest tip? Head out on a guided adventure with her team, they know ALL the best spots!
Taking a Hike
The Miner's Path has a lot of history, and some great scenery. It's just 1.6km long (with 59m elevation gain) so it's nice for a stroll with the family, complete with waterfall at the end. If you want know all the rich mining and geological history of the area while you roam, Heather's your go-to! She offers guided hikes, photo and culinary experiences.
Paddling in Crowsnest Pass
Even though you're in the middle of a massive mountain range, there are plenty of lakes and rivers for water adventures. My new favourite camping spot has got to be at Chinook Lake (thanks to Jessica and Heather for sharing this gem). The campsites are right along the glassy emerald water and the lake is surrounded by towering mountains that offer epic views – and photo ops. Go for a paddle in a canoe or kayak to get full experience.
When You Go
Uncover more adventures in the Canadian Rockies. Check out ZenSeekers' #RockiesExploring Expedition page to see how you can have an adventure like this.