The Drive comes alive in green, white and red as Italian Day returns for its 10th edition on June 9th, celebrating Comunità – community. A vibrant cultural street festival, spanning 14 blocks, the event celebrates Italian culture and heritage with over 130 street participants, comprised of partners, merchants, vendors and community organizations.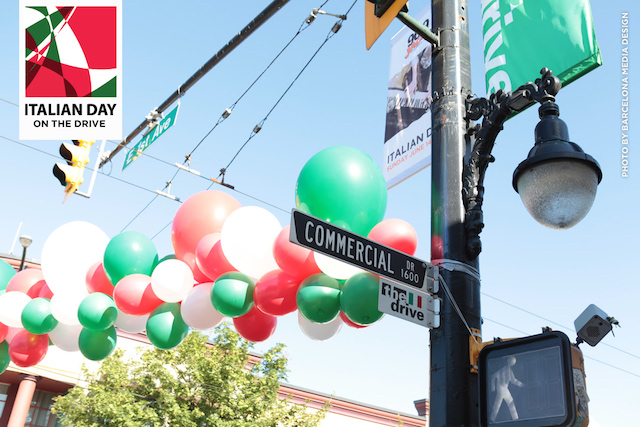 Italian Day on The Drive 2019
When: Sunday, June 9, 2019 12:00pm to 8:00pm
Where: Commercial Drive (Venables St. to Grandview Cut)
Admission: Free!
June is Italian Heritage Month, this year celebrating its official city observance designation, which features Italian Day on The Drive. Italian Heritage Month involves a month long series of events showcasing the rich culture of Italy in the realms of food, music, film, language and other cultural initiatives and celebrations, presented by various partners, including Il Centro Italian Cultural Center, where most of the events will be held, the Italian Day Festival Society, and the Consulate General of Italy in Vancouver.
This year's theme, Comunità, holds great significance because Italian Day is taking an initiative to address the issue of at-risk youth by helping to raise awareness and funds for youth mentoring programs. The Italian Day Festival Society's goal is to raise $10,000 via partners and community business contributions in support of The East End Boys and Girls Club – run out of Templeton Secondary and operating on charitable donations.
Festival Highlights
Highlights are delivered in piazza style themed intersections and areas, including three music stages featuring performances by local and international Italian artists, an 'Authentic Italian Table' piazza showcasing food and wine samplings, fashion show featuring local designer, 14 extended patios, youth activities and themes, food eating contests, vendors and food trucks, and exotic Italian cars and motorcycles.
Presented by the Italian Chamber of Commerce, the 'Authentic Italian Table' – an entire intersection dedicated to food and wine samplings, returns in piazza style highlighting authentic Italian products and premium Italian wines and beverages for a 'true Italian taste'. Tickets can be purchased on site at the festival.
Delicious Italian street food — including fried pasta, wood-oven panini, meatballs, arancini, pizza, panzerotti, fried Italian donuts, cannoli, gelato, coffee, afogato, granita and more — will have you in the streets of Roma, Venezia and Firenze as you make your way down The Drive. Visitors will also enjoy local Italian-Canadian music performances on the 2nd Avenue and Grandview Park Stages, including those from the crowd-favourite restauranteur and showman, Federico Fuoco, along with international performing artist Carmelina Cupo.
For more information follow Italian Day on The Drive on Facebook, Instagram and Twitter.