This month's guest post is contributed by Dannie Piezas, Environmental Educator with the Stanley Park Ecology Society ("SPES")
Vancouver Bird Week 2019
There are few creatures in nature that are quite as inspiring as birds.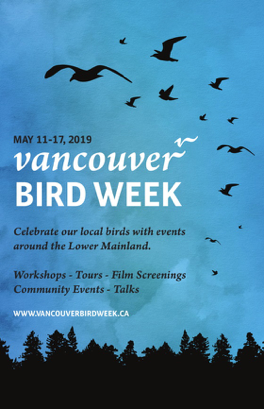 They are, first of all, quite easily noticed with their striking plumage, flying ability, musical language, and their widespread presence across the landscape. These qualities, and their sometimes peculiar antics, lend themselves to some level of admiration—whether to bird nerds or the bird-curious. Less often, they might be the cause of aversion or even fear, especially around the nesting season when crows might bring to mind an infamous (and over-the-top) scene from Hitchcock's The Birds.
However, there is so much more to birds than their pretty colours and occasional dive-bombing. From May 11-17, Vancouver takes a closer look at the birds in our neighbourhood during the 2019 Vancouver Bird Week, a week-long series of events celebrating our 250+ species of birds. Bird Week offers something for everyone, from experienced bird experts to fledgling beginners. Events include bird "language" training, a hawk and owl show, a bird photography workshop, a wing taxidermy workshop, a bird walk for hipsters, and many more. Most events are free.
Stanley Park Ecology Society (SPES) coordinates Bird Week this year and offers its own set of bird-themed programs around Stanley Park, including the opening "Take-off" event on Saturday, May 11th at Lost Lagoon from noon to 4:00pm. Don't miss the parade of costumed "birds" along the Lagoon at 3:00pm.
History of Bird Week
Bird Week started as just one day first celebrated in Vancouver on World Migratory Bird Day (WMBD), May 11, 2011. WMBD is a United Nations-sponsored initiative that recognizes the importance of birds as key indicators of our environment's health (like the canary in the coal mine). Vancouver and its week-long bird festival are ideally situated to showcase birds and raise our awareness about them: the region lies on the Pacific Flyway, a major north-south route for migratory birds in the Americas, from Alaska and our northernmost territories, down to Patagonia. The Arctic Tern is one of our seasonal visitors that migrates from the Arctic to Antarctic each year; imagine their need for good rest stops along the way! Because such birds touch down in so many places, their impact is felt across various parts of the world, and it's vital to conserve their habitat all along their migration routes.
Benefits of Birds
Birds affect ecosystems and provide multiple benefits to humans, in the way they spread seeds, pollinate flowers, and feed on pests like insects and rodents. They also provide habitat for other animals; woodpeckers, for example, create cavities that can then be used by owls, wood ducks, and squirrels.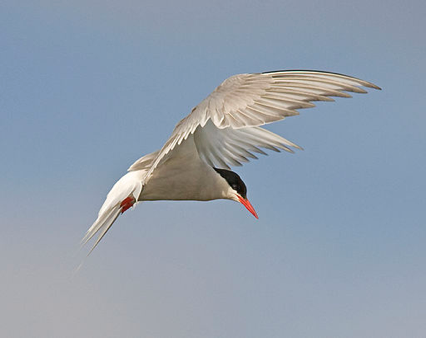 Birds are incredibly diverse, not just in appearance but in their feeding and habitat preferences. We find them in trees and bushes, on water, on grassy lawns, and even in the most urban environments. They provide something like a treasure hunt opportunity that is not unlike the recent phenomenon of Pokémon Go, which is pretty much birdwatching but on a tiny screen.
Besides all that has been said, birds have always been of great spiritual and poetic significance to humankind—a gateway to the transcendent. With their grace for flight, they are like mediums: connecting heaven to earth, country to country, habitat to habitat, and urban to wild. Watching them closely stirs a myriad of questions about things outside of ourselves, especially the natural world and its wellbeing. Let Hollywood slasher film director Wes Craven sum it up like so:
Like the canary in the mine, [birds] hold the planet up to us like a mirror and ask: "Can you not see that if we pass away, soon you will as well?" That's a good question, and since birds pose it, they matter a lot.
Vancouverites can follow all the updates and events of Vancouver Bird Week through the official website, Facebook page, Twitter account, and Instagram account.
About SPES Saturday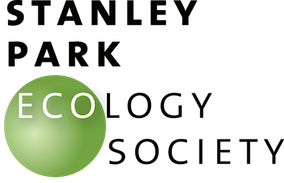 As a member of the Stanley Park Ecology Society, I wanted to offer the organization an opportunity to share their news, events, and work so I created the "SPES Series" years ago. This is where SPES can contribute and share stories with my audience once a month. Follow SPES on Facebook for more information.