Bill Reid Gallery of Northwest Coast Art presents qaʔ yəxw – water honours us: womxn and waterways. The premiere group exhibition is guest curated by four members of the ReMatriate Collective – Tsēmā Igharas (Tahltan), Tiffany Creyke (Tahltan), Angela Marie Schenstead (nêhiyaw), and Denver Lynxleg (Anishinaabe) – and features nine Indigenous artists.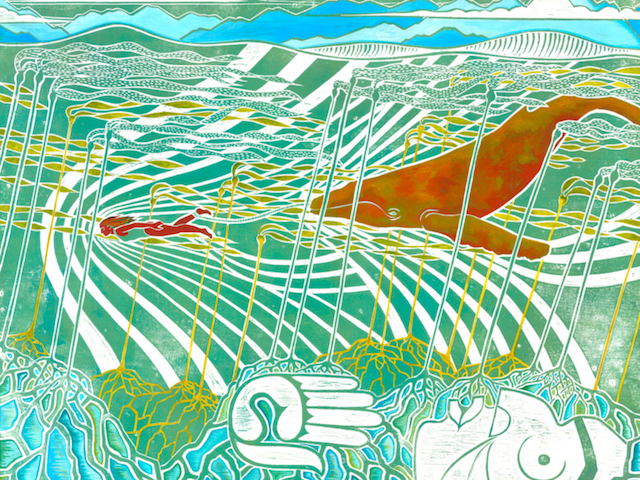 Bill Reid Gallery Presents qaʔ yəxw – water honours us: womxn and waterways
Where: Bill Reid Gallery (639 Hornby St, Vancouver)
When: April 10 to October 2, 2019
The exhibition will also feature Audrey Siegl (Musqueam) as an important contemporary Water Keeper. The show honours the important role of Indigenous women on the coast, both past and present, in a timely investigation amid ongoing debates about pipelines and Indigenous rights. qaʔ yəxw is a hən̓q̓əmin̓əm̓ expression that means "water honoursus."
qaʔ yəxw – water honours us: womxn and waterways, features video, photography, carving, printmaking, beading, and performance by artists affiliated with various Indigenous peoples of the Northwest Coast and the interior of British Columbia.
Each of the nine artists considers a unique experience with the life-giving element of water, and creates innovative works based on culturally specific practices:

Richelle Bear Hat (Blackfoot/Cree)
Krystle Coughlin (Selkirk)
Lindsay Katsitsakataste Delaronde (Mohawk)
Alison Marks (Tlingit)
Dionne Paul (Nuxalk/Sechelt)
Kali Spitzer (Kaska Dena)
Marika Echachis Swan (Nuu-chah-nulth)
Carrielynn Victor (Sto:lo)
Veronica Waechter (Gitxsan)

Free Admission First Friday of the Month
Thanks to their partnership with the Vancouver International Airport the gallery is able to offer FREE admission from 2:00 pm to 5:00 pm every first Friday of the month. Next date is Friday, April 5, 2019.
Follow the Bill Reid Gallery of Northwest Coast Art on Facebook, Instagram and Twitter for more info.