It's the first day of spring so in my morning perusal of the City of Vancouver Archives I thought I'd make it the subject of my keyword search. It turns out, Spring – the coiled red sculpture at Robson Square – turned up the first results.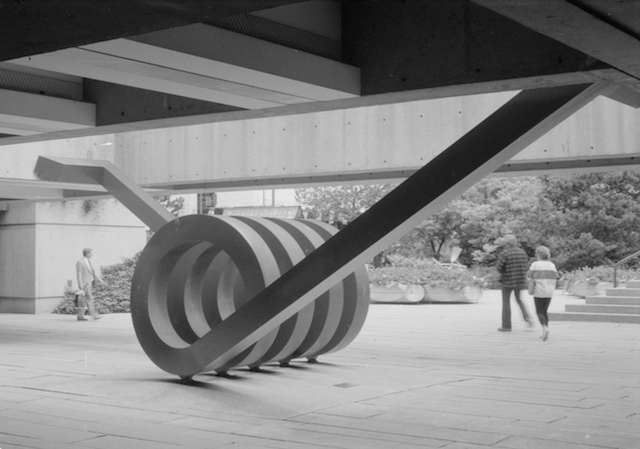 Spring at Robson Square
The steel feature was installed in 1981 and is the work of artists Alan Chung Hung. "He moved to Vancouver in 1969 and studied at the Vancouver School of Art. He was one of the founding members of the Chinese Canadian Visual Arts Society in Vancouver. Chung Hung died of cancer en route from Hong Kong to Vancouver in 1994." – City of Vancouver Public Art Registry
Spring won a juried competition funded by BC Building Corporation during the development of Robson Square.
Hung's other works include Clouds above 938 Hornby, and the iconic Vanier Park mainstay, Gate to the Northwest Passage that frames beautiful views of the city and mountains.
Read about more public art in Vancouver in the Vancouver Icons series here »