The 8th Macaron Day in Vancouver is coming up on March 20th, joining bakeries, cafes and bistros around the world to support local causes, one sweet treat at a time.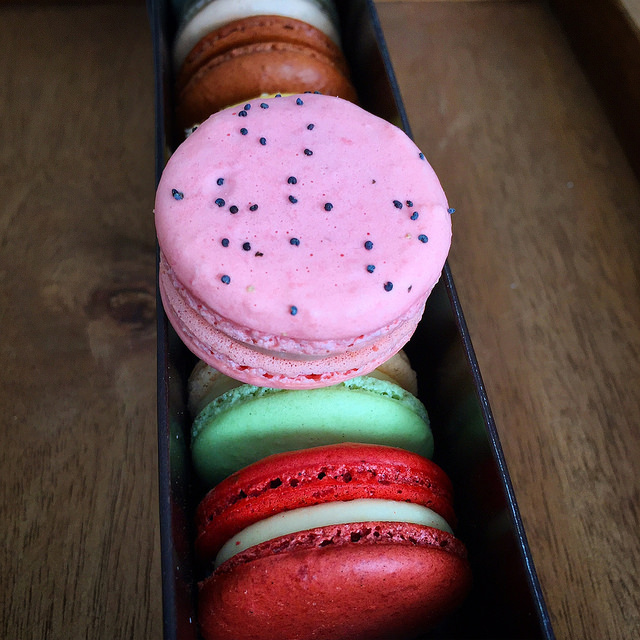 Macaron Day
Macaron Day was founded in France (le jour du macaron) by Pierre Hermé years ago. It's a day to celebrate the colours of spring with a bright palette of treats. Macaron Day events will be happening overseas, in New York, and in Toronto. Over the last few years it has become a Vancouver tradition as well.
Macarons (not to be confused with macaroons) are meringue-based confections commonly filled with buttercream or jam with a delicate soft and crunchy outer shell. All you need to do is visit a participating "Macaron Day" bakery or cafe on March 20th and you'll be given a macaron and be invited to make a donation their chosen charity.
Participants and Causes
Where: Thierry Cafe (1059 Alberni St, Vancouver)
Cause: St. Paul's Foundation. Dear to Chef Thierry's heart, St. Paul's changed his life when he was diagnosed with a heart condition known as cardiac hypertrophy. A successful surgery in 2016 turned his health around and has made him eternally thankful for all the care he received from the dedicated team of doctors and nurses.

Choose from Chef Thierry's selection of macarons from lychee, vanilla, pink praline, salted caramel and more. Available individually or in gift boxes of 7 or 12 pieces, macarons are offered from $2.50 to $27.85. As in years past, partial proceeds of all macaron sales will benefit St. Paul's Foundation.
Where: Ladurée (1141 Robson St, Vancouver)
Cause: $1 from every macaron sold on Macaron Day will be donated to the BC Children's Hospital Foundation. Be it one macaron, a dozen, or more, macaron-lovers are encouraged to visit any of Ladurée Vancouver's three locations on Macaron Day to help fundraise for BCCHF.
Where: Bon Macaron (2823 W Broadway, Vancouver)
Cause: $5 from every box of six macarons sold on March 20th, 2019
will go to the BCCHF. Buying a box of six macarons also gets you two more
of your choice free and a chance to be a winner in Bon Macaron's "Bake It until You Make It" contest. Two randomly selected winners (one in Victoria and one in Vancouver) will win a macaron baking class for two.
Do you know of any more locations? The list will be updated as offerings and specials are announced.