On Pink Shirt Day YWCA Metro Vancouver youth leaders and a panel of experts will be hosting a free event at Hootsuite: Building Healthy Online Communities in the Age of Cancel Culture. With online interactions become increasingly polarized, the event will examine what it looks like to engage meaningfully online while navigating current social and political landscapes.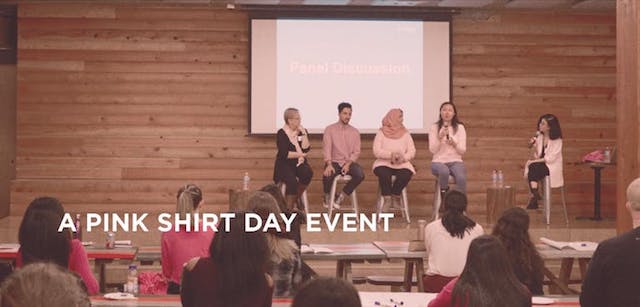 YWCA Panel on Pink Shirt Day
Where: Hootsuite (5 E 8th Avenue, Vancouver)
When: February 27, 2019 – 5:30pm to 7:30pm
Admission: Free! Register online here »
With digital conversations becoming increasingly polarized with every subject (i.e. the Gillette ad) and with cancel culture, trolling and outright harassment taking centre stage with regards to online interactions, our YWCA Youth Advisory Committee (YAC) find it important to examine this behaviour, especially since research shows that dehumanization and anonymity behind screens contributes to a lot of the radical behaviour we've been seeing.
Panelists include:
Fatima Rua Youth Advisory Council Member | YWCA Metro Vancouver
Johanna Sam MSc, PhD(c) |The University of British Columbia
Eva Taylor Senior Manager, Social Marketing | Hootsuite
Laura Track Human Rights Lawyer and Director of Education | Community Legal Assistance Society
Miley Leong Youth Engagement Coordinator | YWCA Metro Vancouver
Join the YWCA for this free event as they explore how to collectively foster healthier online communities.