Come From Away is a Broadway musical about the true story of the small town that welcomed the world. "We talk about it being the 9/12 musical, not the 9/11 musical, because it's really about the generosity and kindness of human spirit that can come out of such a tragic event." I recently had the opportunity to chat with Becky Gulsvig, who plays Beverley Bass (and others) in the Broadway Across Canada production of Come from Away, which is making Vancouver debut at the Queen Elizabeth Theatre for a limited engagement March 5-10, 2019.
Come From Away Takes the Stage in Vancouver
Come From Away tells the remarkable true story of 7,000 stranded passengers and the small town in Newfoundland that welcomed them. Cultures clashed and nerves ran high, but uneasiness turned into trust, music soared into the night, and gratitude grew into enduring friendships.
One of those stranded individuals was Beverley Bass who was piloting a 777 from Paris to Dallas when it was diverted to Gander on 9/11 when US airspace closed.
"It's a history lesson that's very recent so there's a lot of material you can watch and read and learn from." Becky says that the cast was provided with a lot of information as they began preparing for the production. She also had the opportunity to meet her character in person. "The real life Beverley has been so kind and supportive, and I got to meet her before I started rehearsals, which was a real treat."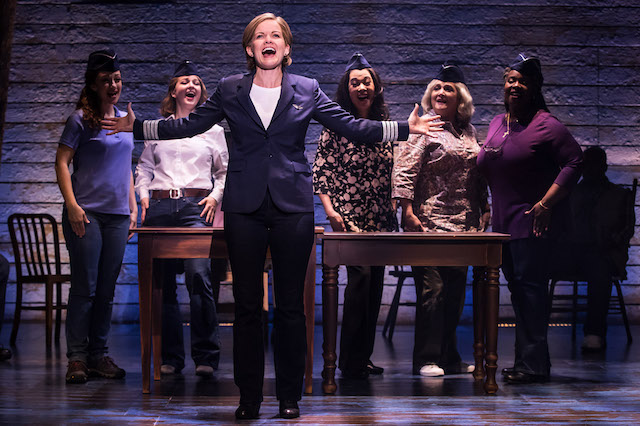 Beverley Bass became the first female captain at American Airlines in 1986 and she also led the first all-female crew in the history of commercial jet aviation. She has her own story, which is one of many that are all woven into Come From Away.
Becky's story started in Minnesota, and has traveled around Canada "more than the average bear" US tourist as she puts it, thanks to proximity to Winnipeg and the fact that she married a Canadian, from Ontario. Touring with the show, this will be her second time to Vancouver but we both have Newfoundland atop our travel bucket lists. She has performed on Broadway in Hairspray, and originated the role of Leilani in the Broadway production of Legally Blonde the Musical.
In Come From Away, Becky says that you just try to be these people for 90 minutes, whoever you're playing, for each second. It's a really nice story to get to share. "The show really highlights the good in people," Becky adds.
In terms of the production, she says it's very simply complicated. "We play multiple roles each, we move chairs and tables to create new forms and shapes and settings, and it's kind of like a giant game of Pick-Up Sticks and Jenga all at once. So it took a minute to learn but now that we've been on the road for a bit it's been nice."
"It really highlights the good in people." – Becky Gulsvig
With a book, music and lyrics by Tony and Grammy Award nominees Irene Sankoff & David Hein, Come From Away is directed by Tony Award winner Christopher Ashley. It began performances on Broadway in February of 2017 and officially opened to critical acclaim in March that same year at Broadway's Gerald Schoenfeld Theatre. The Tony Award-winning musical launched a second company in Canada with a sold out four-week engagement in Winnipeg and is currently playing to standing-room-only audiences in Toronto at the Royal Alexandra Theatre.
"It's very inspiring and I really am so glad that audiences can experience this story, and take that inspiration of kindness and generosity away from it," Becky says.
"I know we as cast members have definitely taken that away from it and it's just such a lovely reminder nightly, even as we do it, it's just so up-lifting. There are certainly moments of sadness in it but mostly there's a lot of laughs, a lot of joy, and a lot of heartwarming true tales of generosity, and it's really a delight."
Broadway Across Canada presents Come From Away, March 5-10, 2019 at the Queen Elizabeth Theatre in Vancouver. Follow Broadway Across Canada on Twitter and Facebook.
Related: Broadway Across Canada Announces 2019/2020 show lineup.