Women's Collective is a series of inspirational Fireside Chats, the third of which will take place on January 30th with Hon. Janet Austin, Lieutenant Governor of British Columbia in conversation with Lien Yeung of CBC.
Women's Collective Fireside Chat with Hon. Janet Austin
Where: KPMG (1100 – 777 Dunsmuir St, Vancouver)
When: Wednesday, January 30, 2019 6:00pm to 8:00pm
Tickets: Available online for $25.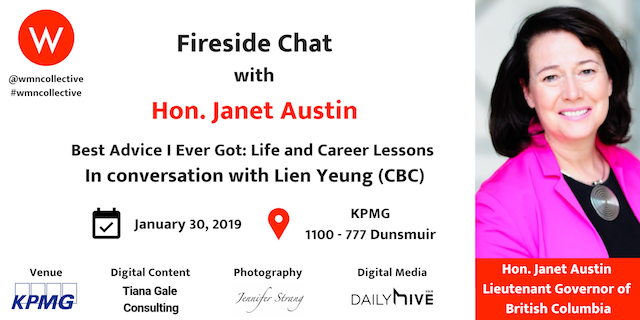 The Fireside Chats are a new series of volunteer driven, inclusive community events, with proceeds going to women's charities in the Lower Mainland. Founded by Maninder Dhaliwal, President & CEO Lions Gate International, the focus of the event series is real career and life advice for women from real people.
"Our speakers are successful and accomplished females who've lived the advice they are offering, and men who have earned the right to be on our stage by being champions of diversity and inclusion, and having a track record of supporting, and mentoring women."
About The Honourable Janet Austin
The Honourable Janet Austin was sworn-in as the Lieutenant Governor of British Columbia in April 2018. Prior to this appointment, she was Chief Executive Officer of YWCA Metro Vancouver, one of the province's largest and most diversified non-profits. She has served on the boards of TransLink, and the Greater Vancouver Board of Trade.
Her Honour has been awarded Business in Vancouver CEO of the Year, Influential Woman in Business Award, the Vancouver Board of Trade Community Leadership Award, the Queen's Golden and Diamond Jubilee Medals. She is Chancellor of the Order of British Columbia and was invested as a Member of the Order in 2016. She also holds an Honorary Doctorate of Laws from Kwantlen Polytechnic University.
Follow Women's Collective on Twitter, Facebook, and Instagram #WmnCollective for more information about upcoming events.