Experience sponsored by Destination BC, Tourism Vancouver Island & Tourism Ucluelet
Chances are, you're heading to Ucluelet to do some storm watching, hiking, restful relaxation at a spa resort or perhaps even some surfing. Whether you're walking the Wild Pacific Trail or spending the day at Long Beach, you can enhance your West Coast Vancouver Island experience by enjoying local attractions and amenities right in the town of Ucluelet.
Where to Explore
Ucluelet Aquarium (180 Main St, Ucluelet)
Canada's first catch and release aquarium! Lots of information, touch pools, and fun for families. This is an open flow, naturally-fed conservation facility where every sea creature eventually gets re-released, even the rocks.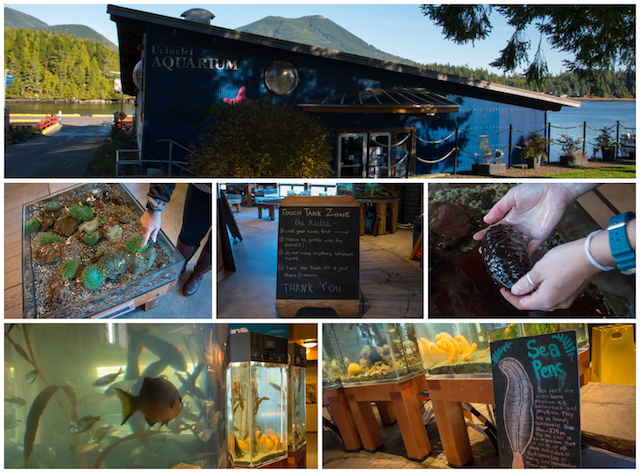 Get up close with fish and invertebrates from the local waters of Clayoquot and Barkley Sounds. Open for the season March 1st, it's interesting for adults as well as kids, with accessible learning tools, and lots to see and touch.
Where to Eat
All the cafes! Ucluelet knows its coffee, and muffins, and breakfast sandwiches. You'll find several cafes open bright and early in the heart of town like Barkley Cafe and Zoe's Bakery Cafe.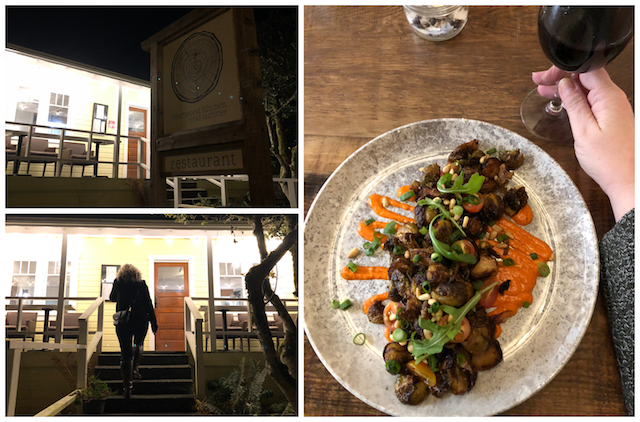 For later in the day, my sister and I ate at Heartwood Kitchen food outfitter – where I had one of the best Brussels Sprouts dishes ever, although my mom still doesn't believe me since I despised the vegetable when I was little. Check out their seasonal bistro menu and call ahead to make a reservation since it fills up quickly at supper time.
Where to Drink
Thay Tea is a tea-lover's dream, and the knowledgeable staff could even have the most coffee-loving roasted bean devotee taking a sip of matcha.
All of the loose-leaf teas are organic, some are blended in house, and you can sniff samples or place online orders for pick-up. During my visit, a woman and boy came in after school to play a game of chess and share a French Press of green tea. It's a great little hub with tea accessories, artwork, and gift items for sale as well.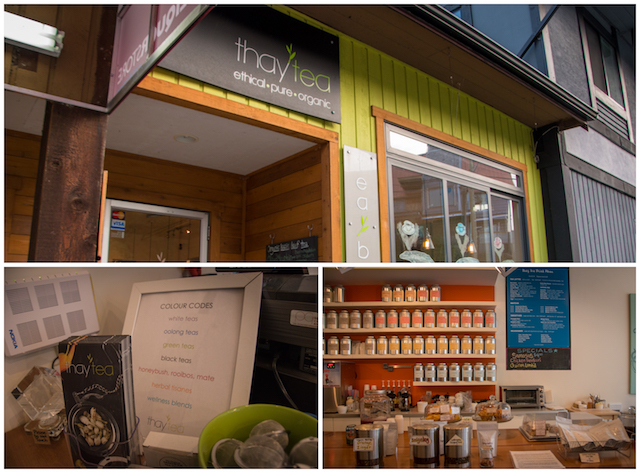 For a more spirited sip, visit Pacific Rim Distilling. The house-made gin and vodka contain yeast from Barkley Sound, and all ingredients are from BC (like local salal berries in the gin). Stop into the tasting room and you'll receive a room temp sample from owner Luke Erridge. "At room temperature you've got nothing to hide."
Luke's hand-crafted products are all stand-alone spirits and he says everything that goes into the bottle is an expression of the area. He's a 4th generation distiller with a whole lot of know how, and passion for using local ingredients.
Where to Stay
Every single one of these places is within walking distance from my boutique accommodations at The Francis (1536 Peninsula Rd, Ucluelet).
You'll find the coziness of a coastal inn (with a fireplace, and hot tub out back) with the convenience of being so close to town. A kitchen with coffee maker and refrigerator provides comforts of home, and if you've been out in the rain and just want to snuggle in, the giant smart TV above the fireplace is Netflix enabled.
You can really get to know this unique geographic region whether you're out in the rain, doing some storm watching, shopping for one-of-a-kind gift items (even the coffee shops have gift shop sections) or sampling creations from local artisans, bakers, and chefs.
For more info, follow Tourism Ucluelet on Facebook, Instagram and Twitter.
Related: Where to Storm Watch in Ucluelet & Tofino; Wild Pacific Trail in Ucluelet. Follow my Insta-Story to see what my sister and I got up to in real-time during our Ucluelet visit.