Aunt Leah's Christmas Tree Lots are now open in 5 locations around Metro Vancouver. These lots are a major annual fundraiser for Aunt Leah's Place, with 100% of profits from the sale of the trees go to support the housing and training programs for foster youth and young moms.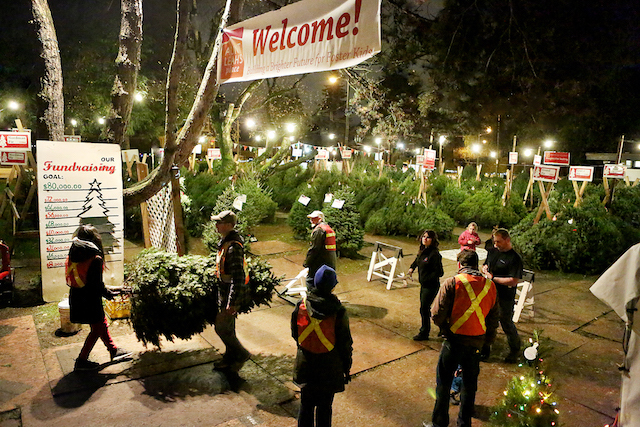 About Aunt Leah's
Every year in BC, over 700 youth will turn 19 and "age out" of government care, forcing an abrupt end to their social, emotional, and financial supports. Quickly, these youth must secure food, housing, employment, and develop the life-skills to keep it all together. It's an exacting standard we ask of no other young adults in our society. As a result, nearly half of these youths will experience homelessness, less than a third will graduate from secondary school, and the majority will rely on income assistance.
Last year Aunt Leah's Christmas Tree Lots raised over $500,000. Aunt Leah's relies on the support of the community to raise these vital funds to ensure that youth aging out of care and young moms and their babies, like Amber and her daughter, have a place to go when they need support.
Volunteers Needed
They are in need of volunteers this season and it's easy to sign up online to support one of the 5 locations around Metro Vancouver.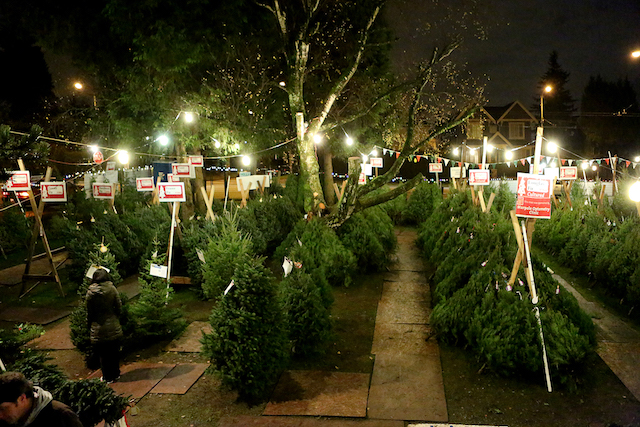 Aunt Leah's Christmas Tree Lots 2018
Browse the selection of Douglas Firs, Noble Firs, Fraser Fir, Alpine Fir, Alberta Spruce, Grand Fir, Nordman Fir, and Interior Douglas trees available on the lots.
Aunt Leah's has 17 years of experience in tree sales and four locations:
Vancouver Christmas Tree Lots
1) Location: St. Stephen's United Church (7025 Granville St)
Hours: 7 days a week from 10:00am to 9:00pm
2) Location: River District Neighbourhood (3555 Sawmill Crescent)
Hours: Wednesday & Thursday 1:00pm to 8:00pm
Friday to Sunday 10:00am to 8:00pm
Closed Mondays and Tuesdays
Burnaby Christmas Tree Lot
3) Location: All Saints Anglican Church (7405 Royal Oak, Burnaby)
Hours: Monday to Thursday from 1:00pm to 8:00pm
Friday, Saturday, Sunday from 10:00am to 9:00pm
Coquitlam Christmas Tree Lot
4) Location: Eagle Ridge United Church (2813 Glen Drive, Coquitlam)
Hours: Monday to Thursday from 1:00pm to 8:00pm
Friday, Saturday, Sunday from 10:00am to 9:00pm
North Vancouver Christmas Tree Lot
5) Location: Lonsdale Quay (East Plaza) 123 Carrie Cates Court
Hours: Monday to Thursday from 1:00pm to 8:00pm
Friday, Saturday, Sunday from 10:00am to 8:00pm
Look for a special pop-up lot at Caps Bicycle Shop (434 Columbia St, New Westminster) on December 8 & 9, 2018 from 10:00am to 6:00pm.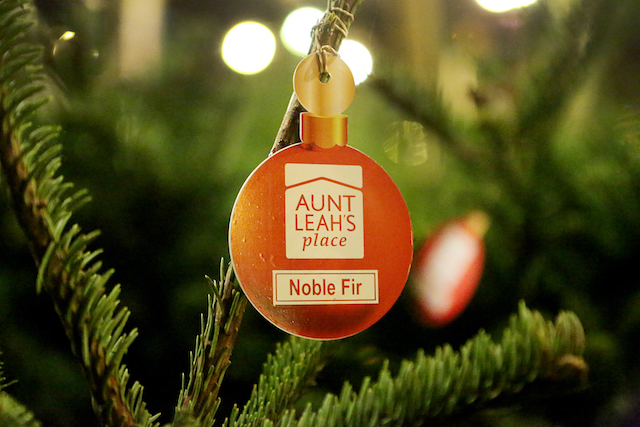 You can also purchase trees online for delivery to any city in Metro Vancouver.
Wreath Giveaway
Thanks to Aunt Leah's I have a wreath to give away to a lucky Miss604 reader. Beautifully handcrafted by a local artisan, this wreath is made of a mix of bows and pines carefully selected to create a high quality wreath that will fill your home with a very pleasant Christmas scent and will last all season long.
Here's how you can enter to win:
Leave a comment on this post (1 entry)
Click below to get another entry by posting on Twitter:
[clickToTweet tweet="RT to enter to win a handcrafted wreath from @AuntLeahs #AuntLeahsTrees http://ow.ly/hZAC30mQv6O" quote=" Click to enter via Twitter" theme="style6″]
I will draw one winner at random from all entries at 12:00pm on Friday, December 7, 2018. The winner will be able to pick up their wreath at the Aunt Leah's lot that is most convenient for them. Follow Aunt Leah's on Twitter and Facebook for news and updates.
Update The winner is Esther!