Last year I launched a Vancouver gift guide that featured items and experiences that give back to local causes. Since September of this year, I've been receiving emails about things to include so I knew I had to write the post up again for 2018.
These gifts keep on giving, through being an awesome item or experience, from which proceeds also support non-profit organizations in the Greater Vancouver area, and beyond. If you know of any more, please leave a comment and I'll add it to the list, thanks!
Vancouver Gift Guide for a Cause
Organization: Megaphone Magazine
Gift: Hope in Shadows calendar. More than 150 vendors sell Megaphone magazine and the Hope in Shadows calendar each year on the streets of Vancouver, North Vancouver and Victoria. Hope in Shadows is a community project based around a photo contest and calendar for people experiencing poverty in Vancouver and Victoria. The Hope in Shadows calendar is launched each October and sold through Megaphone's vendor program, which creates seasonal employment for people impacted by poverty.
Organization: One Girl Can
Gift: A portion of every bottle of AG Hair products sold supports One Girl Can, a registered charity that provides educational opportunities to impoverished girls living in marginalized areas of sub-Saharan Africa. AG's cult-favourite Firewall argan shine & flat iron spray is being introduced with limited edition packaging for the holidays and will give back 50 cents from every bottle sold. Holiday greeting cards are also available, raging from $25-$50 and are perfect as a gift to friends and family in lieu of traditional presents. The cards feature photography from One Girl Can's most recent trip to Africa with LA-based photographer Adam Amengual, who volunteered his time to document the trip.
Organization: Tradeworks
Gift: Tradeworks ornaments. Tradeworks employs individuals with various barriers to employment after their completion of a carpentry and manufacturing employment program run by our partner organization, Open Door Group.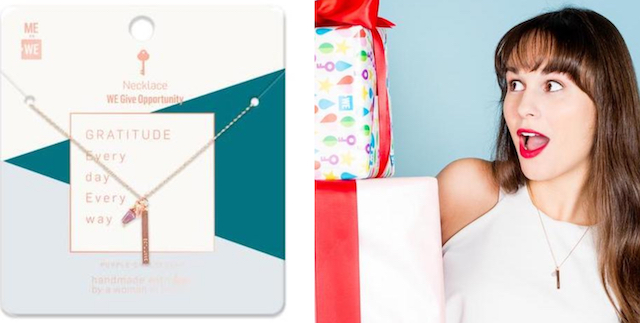 Organization: Me to We
Gift: Shop extraordinary gifts made with love in Kenya and Ecuador. From stocking stuffers to beautiful, one-of-a-kind accessories, we have something for everyone on your list. Each gift gives education, water, health, food or opportunity to a family, a woman or a community.
Organization: Cause We Care
Gift: Blue Ruby Jewellery and Cause We Care have teamed up once again to offer a beautiful bracelet for purchase with proceeds supporting a local cause. 100% of the proceeds from these bracelets go towards Cause We Care Foundation's programs and initiatives in support of single mother-led families and children in need in the Vancouver area. Bracelets from the Blue Ruby x Cause We Care collection retail from $20 to $125 and are available for purchase at all Blue Ruby locations, in addition to Hill's of Kerrisdale, Hills Dry Goods Kitsilano and the newly opened Hill's Dry Goods South Granville.
Organization: Science World
Gift: Tickets to the Science of Cocktails on February 7, 2019. All proceeds from the event support the Class Field Trip Bursary Program, allowing over 8,000 kids from underserved schools to visit the geodesic dome in the next school year by covering their entry and school bus fee.
Organization: World Wildlife Fund
Gift: Symbolic wildlife adoptions. Give someone the symbolic gift of a dolphin, owl, cheetah, narwhal, arctic wolf or panda! This will help conserve wildlife and our planet for future generations. With more than 30 species to choose from, you are sure to find the perfect one.
Organization: PHS Community Services Society
Gift: East Van Roasters (319 Carrall St., Vancouver) has crafted a collection of artisanal chocolate, coffee, confections and baking, plus locally made gifts designed to nourish the heart and body this holiday season. East Van Roasters is a fully registered charity and social enterprise operated by the PHS Community Services Society, so shoppers can feel good knowing their purchases are providing meaningful employment to women living in the Downtown Eastside who are facing challenges and barriers in their lives.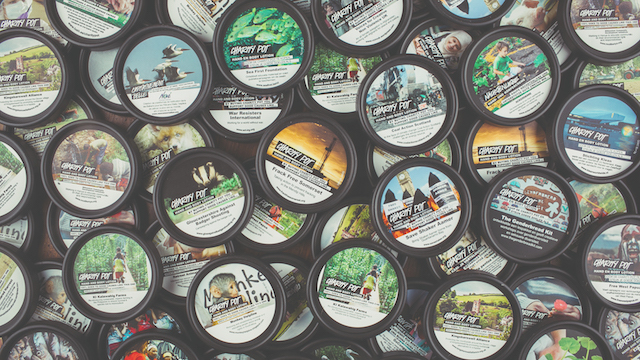 Organization: Various (environmental conservation, animal welfare, human rights)
Gift: Lush's Charity Pot. This rich and generous cream contains ingredients sourced from some of our Sustainable Lush Fund projects that support regenerative agriculture around the world. With every purchase of Charity Pot, they donate 100% of the price (minus the taxes) to small grassroots organizations working in the areas of environmental conservation, animal welfare and human rights.
Fund a Need
Organization: UNICEF Canada
Gift: UNICEF Canada Survival Gifts are a collection of over 65 charity gifts essential for child survival, protection and development – available both as online and offline catalogues. They are not only gifts that give back but real items that are distributed to children and their families in response to real need. You purchase the survival gift on behalf of a friend or loved one, they receive a personalized card, and a child receives the gift.
Organization: Canadian Cancer Society
Gift: Make a meaningful gift in someone's name through the Canadian Cancer Society's gift program. You can order daffodils, give the gift of sleep, help give camp supplies to a child with cancer, donate a wig, fund research or stock a lab. Place your gift order, send a personalized card to your loved one, and let them know what you have been able to fund in their name.
Organization: YWCA Metro Vancouver
Gift: Fund a need for local women and children, on behalf of a loved one this season through the YWCA Metro Vancouver's Simplify the Season campaign. Give the gift of healthy lunches for a month, clothes for a family in need, groceries and more. Shop needs online, click to purchase, and the YWCA delivers while you let your friend know that you've made this gift on their behalf.
Organization: Canadian Red Cross
Gift: Build a Survival Kit from a selection of gifts online that will deliver hope and comfort this season. Now through December 25, 2017, all gifts are matched by Aviva Canada meaning your gift is doubled. You can add blankets and comfort, mother and baby health packs, or grocery packs to your cart and send these gifts on behalf of your friend or loved one, with an option to send them a personalized e-card to let them know.
If you know of any other initiatives, please feel free to leave information in the comments section. Happy shopping!