Homfray Lodge is now Klahoose Wilderness Resort in Desolation Sound
I'm one of those 'cup your mug of coffee in both hands, rest your elbows on the cedar railing of the lodge's balcony, peer out across the glassy waters of the pristine ocean inlet' kind of morning people. Ok, well maybe just when I'm on vacation since this is a luxury I don't have every day, but it's pretty much my favourite way to get my morning started.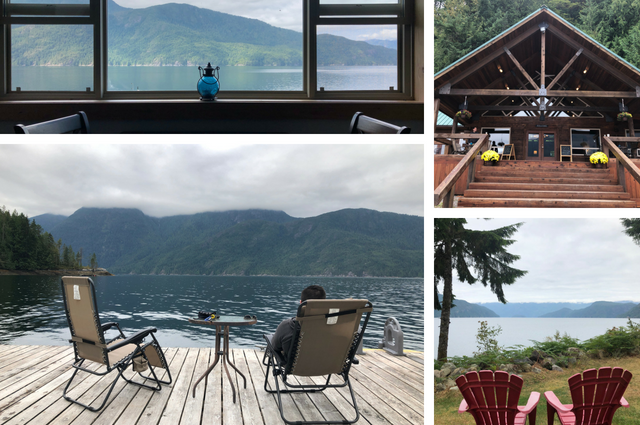 Continuing my recap of our arrival at Homfray Lodge in Desolation Sound, John and I woke up to our first full day in this Cascadian paradise. Named one of Destination Canada's Signature Experiences, the cruise up to the lodge through Desolation Sound was the perfect way to unwind and prepare for our time on this slice of upper Sunshine Coast mainland in the shadow of majestic Mt. Denman.
Homfray Lodge
All inclusive resort along the remote waters of world-renown Desolation Sound. 3 meals a day, in-room amenities, water activities, hiking, beer & wine, WiFI.
After a warm shower, I slipped on a wrap-around sweater and my comfiest shoes, and walked down the gravel path to the main lodge from our oceanfront chalet. A coffee urn was out already at 7:00am, so I had one hour before breakfast to sip and savour the silence of the morning with my seaside views. A chalkboard placed out front had our schedule for the day: "8am breakfast. 9am Eco tour". There are several excursions you can take during your stay (one of which I'll write about tomorrow) but for our first full day at Homfray Lodge, John told me flat out: "I want nothing more than to sit by the water and read."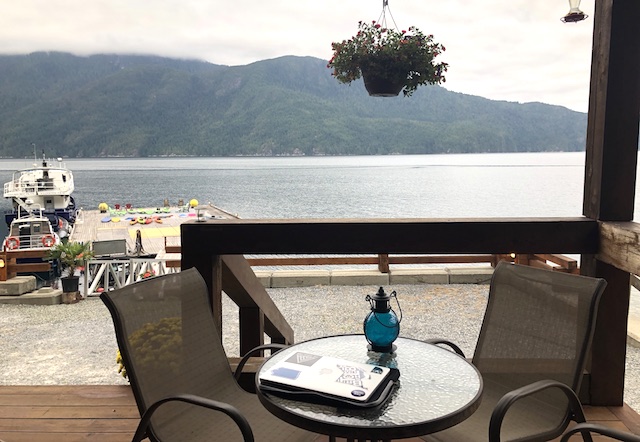 I brought my laptop out to the patio so I could unload some of my photos form our first day, and listened to the local seal gurgle and splash under the dock out front. Lined up like colourful slices of fruit were the toys I was looking forward to playing with later that morning. Red, yellow, and green standup paddleboards and kayaks with an assortment of paddles and lifejackets resting next to inflatable floating loungers – what a dream!
Omelettes, bacon, roasted potatoes, toast, natural peanut butter, more coffee. Chef Chris' carefully curated menu was deliciously fresh and hearty. Lodge staff Pam and Cat told us about some hiking options that included a walk out to Foster Point where you can look back and see a view of the property, as well as a walk up to a waterfall and series of pools along the other side.
John went back to the chalet to get his Kindle. His plan was set. Another group that was staying at the lodge packed up a zodiac for the Eco Tour. They would hit Refuge Cove in Desolation Sound, spot humpback whales, and enjoy a packed lunch along the way.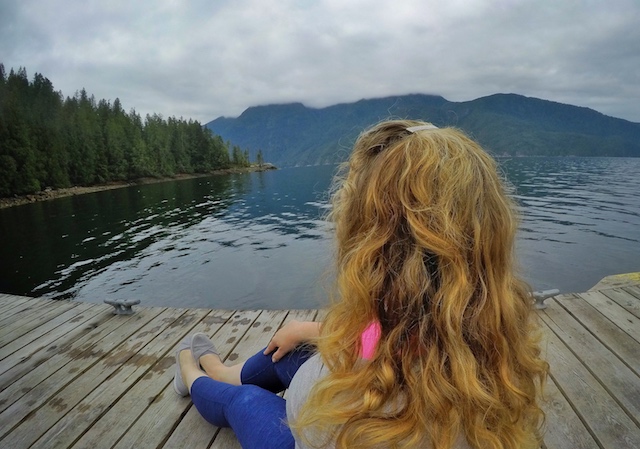 I chatted with Bill, the lodge's GM, and he was excited to see my enthusiasm for paddling. Bill's three decades of professional kayak and eco tourism experience came in very handy once I got changed and met him back on the dock to pick out my boat. I've been casually kayaking every season for the last 20 years and no one has explained boat features, safety practices, and general paddling knowledge to me as succinctly as Bill did in about a 10 minute span.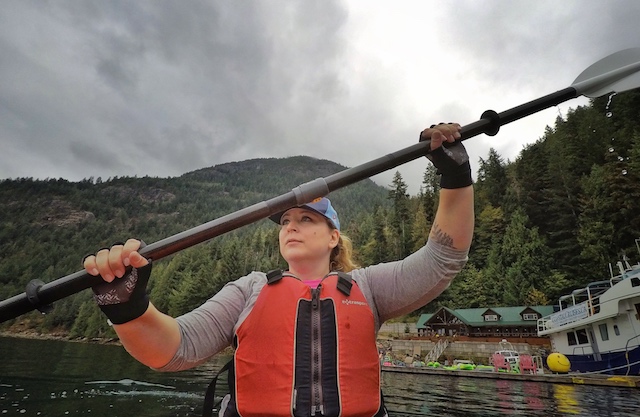 I set out on my own, with John spotting me from the dock, to practice some of the new paddling techniques that Bill had taught me. The rest of the morning was spent lounging on the dock, reading on the dock, listening to the gurgles of Doug (the name we bestowed upon the seal) from below the dock.
In the afternoon John and Bill joined me for a 3 hour paddle up the Homfray Channel. We talked as we followed the shoreline, spotting oyster beds, starfish, jellyfish, schools of eulachon, and ancient pictoglyphs up on rocky overhangs.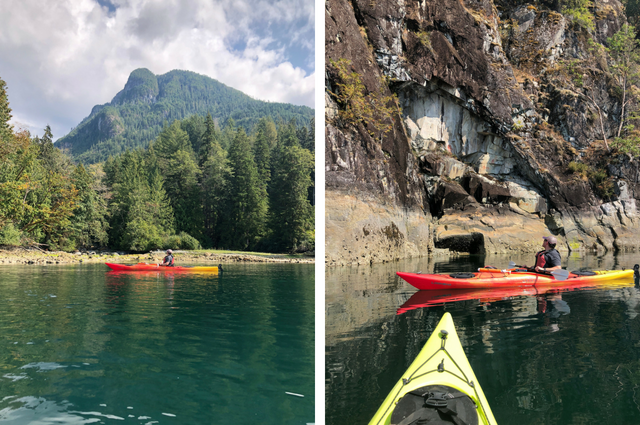 In the late afternoon, a new batch of guests arrived by zodiac. We waved to them from the dock, happy hour wine in hand, and welcomed them to their new favourite vacation spot. "This is where the party's at eh?" one called from the boat. Indeed it was.
We spent the remaining hours of the day watching the sunshine dip behind East Redonda Island before we headed up to the lodge for supper. Beet and roasted cauliflower salad, fresh local Sockeye salmon, and peach cobbler for dessert. I walked outside to snap a sunset photo then, I cupped a glass of Okanagan wine in my hand, rested my elbows on the cedar railing, and caught the elusive second sunset as the warmth of the day slipped under the horizon.
On our last day I looked at the guest book that is setup on a pedestal in the main lodge's lounge area. A note scribbled diagonally in the top right corner said: "Closer to Heaven You Ain't Gonna Come!"
To be continued…! Tomorrow I'll write about the Grizzly Bear excursion we took from Homfray Lodge
Getting to Homfray Lodge
Take the 2 ferry route, Horseshoe Bay to Langdale (Gibsons) then drive up the coast to Earls Cove passing Jervis Inlet and arriving at Saltery Bay (Powell River). Park at the Historic Lund Hotel and the Pacific Coastal Cruises team will be there to transfer you to the lodge in the Pacific Bear.
Fly with Pacific Coastal airlines from YVR South to Powell River, then transfer to Lund to catch your boat to Homfray Lodge.
About Pacific Coastal Cruises
The Pacific Bear aka the Little Blue Boat sails between Lund, Desolation Sound, Malaspina Inlet, the Copeland Islands, the Agamemnon Channel, Quadra Island, Cortes Island, and points in between. You can book multi-day tours that stop at various ports of call, or shorter trips with Grizzly Bear Tours, stopping overnight at Homfray Lodge.
Desolation Sound falls within the traditional territories of the Tla'amin, Hamalco, and Klahoose First Nations.