The Vancouver Mural Festival returns August 6-11, 2018 with 28 brand new artists that have been chosen by curators to create new works this summer.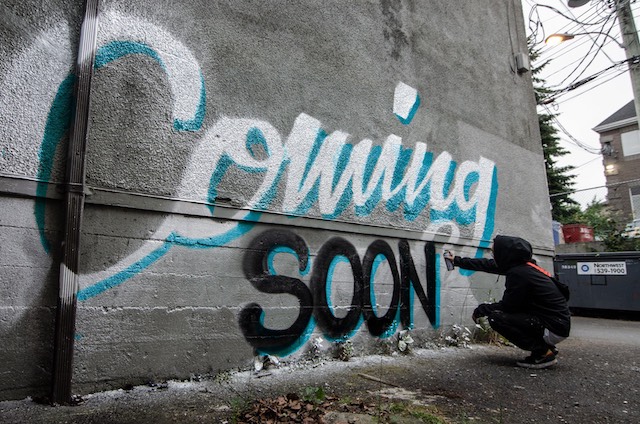 Last year more than 125,000 people strolled the streets of Mount Pleasant to view an eclectic range of local and regional artists from backgrounds in gallery-centric fine art, tattoo, street art, graffiti, traditional and contemporary Indigenous design, and more.
Vancouver Mural Festival
Where: East Vancouver, Mount Pleasant (Main Street) and Strathcona
When: August 6-11, 2018
Vancouver standouts like Danielle Krysa (The Jealous Curator) and Musqueam designer and weaver Debra Sparrow top the list in addition to an all-star all-female roster of international guest muralists: FaithXLVII (South Africa), Bunnie Reiss (L.A.), and BK Foxx (New York).
Organizers are also excited to highlight a number of murals in partnership with local organizations such as Downtown Eastside Centre For The Arts, THRIVE Art Studio, Burrard Arts Foundation, and The Mount Pleasant Neighbourhood House.
Join one of three types of tours during the festival:
Weekly walking tours
Special Edition Festival Tours
Biking tours with Mobi by Shaw Go
Additionally, Vancouver Mural Festival recently announced the names of four artists performing on the Main Street Main Stage as part of the Mount Pleasant Street Party on Saturday August 11th. Those artists include Hannah Georgas, The Belle Game, Schwey, Shamik and more!
There will also be a ticketed finale concert the evening of August 11th (courtesy of LIVENation) at Jonathan Rogers Park featuring A Tribe Called Red and Charlotte Day Wilson.
Create Vancouver Society with support from the City of Vancouver, Mount Pleasant BIA, Canadian Heritage and the Province of British Columbia, once again expect more than 125,000 people to join in the celebration! Follow along on Twitter, Instagram, and Facebook for the latest Vancouver Mural Festival info.