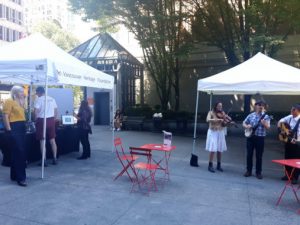 This summer join the Vancouver Heritage Foundation on your lunch break for a series of fun, interactive heritage pop-ups.
On select Wednesdays in July and August they'll be setting up their tent with various heritage-themed items and displays that represent the architectural legacy of the downtown area through the decades.
Heritage Pop-Ups at the Perch
Where: The Perch (Lot 19), the park at the foot of Hornby St at West Hastings St
Each week will feature a different era. All events are free and open to the public.
1920s
Wednesday, July 25, 2018 from 12:00pm to 1:30pm
A musical duo featuring bass player Jen Hodge, artist Edward Juan continues work on an illustrative map of historic Vancouver and a 1920s selection of antiques and archival images.
1930s and 1940s
Wednesday, August 8, 2018 from 12:00pm to 1:30pm
Archival images, antiques from Spacelab Antiques and bassist Jen Hodge and accompanist return. We will also enjoy a swing dancing demonstration and check in with Artist Edward Juan as he continues work on the illustrative map.
1950s and 1960s
Wednesday, August 15, 2018 from 12:00pm to 1:30pm
Songstress Krystle Dos Santos helps us explore the vibrant mid-century years with soul classics, and we'll have more archival images and antiques to see.
1970s and 1980s
Wednesday, August 22, 2018 from 12:00pm to 1:30pm
Musical group the Hard Rock Miners highlight some of the great acts that toured through Vancouver in the 70s and 80s, and if you're feeling inspired, you may even get to sing along with the group! We'll also have images of the era, including some throwbacks from Expo '86, as well as some fun items from Spacelab Antiques.
Follow the Vancouver Heritage Foundation on Facebook and Twitter for more information.