Port Moody residents are invited to enjoy free and fun activities at their first-ever Port Moody Community Fair on June 23rd.
Port Moody Community Fair
Where: Civic Centre (100 Newport Drive)
When: Saturday, June 23, 2018 from 11:00am to 3:00pm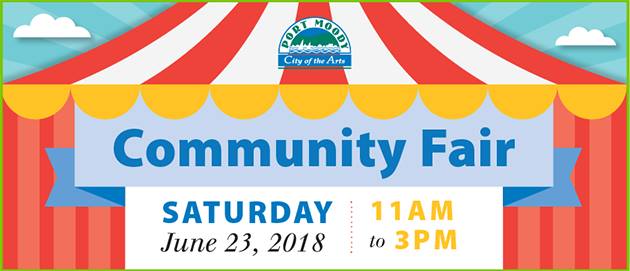 The Port Moody Community Fair will include free and fun activities for all ages, as well as opportunities to connect with the people, services, and organizations that make Port Moody such an amazing place to live. New and long-time residents alike will find a wealth of information about City and community services, parks and recreation, arts and culture, and public safety. The Community Fair is also a chance to discover volunteer opportunities, clubs, community associations, and more.
There will be free activities and entertainment for families, including an inflatable slide, mini train rides, toddler bounce area, video arcade truck, Science World demos, the Fun GymBus (a kids' gym on wheels), a face painter, and a photo booth. Fire juggler Mike Battie and entertainer Ruffle Redbird will be on site too.
Visit more than 30 booths hosted by community organizations and a City of Port Moody Pop-Up City Hall. Follow the event on Facebook for more information.
Enjoy more of Port Moody this summer by taking the new, free Port Moody Shoreline Shuttle.