The City of Port Moody will launch a new, summer-time shuttle bus service on Friday, June 1, 2018. Residents and visitors will be able to catch the free Shoreline Shuttle on Fridays, Saturdays, and Sundays between June 1 and September 3, 2018.
Free Port Moody Shoreline Shuttle
Form this morning's press release:
"The Shoreline Shuttle will connect Inlet Centre, Rocky Point Park, and Moody Centre, stopping near popular destinations like the Recreation Complex, Public Library, Eagle Ridge Hospital, Inlet Park, and the Port Moody Arts Centre," says Mayor Mike Clay. "It's also going to help people access our business areas, including Clarke Street, St. Johns Street, Suter Brook Village, Newport Village, and Heritage Mountain Shoppers Village. I encourage our residents to leave their cars at home, and hop on the free Shoreline Shuttle this summer."
The Port Moody Shoreline Shuttle will be in service from 4:00pm to midnight on Fridays, 1:00pm to midnight on Saturdays, and 1:00pm to 10:00pm on Sundays. The service schedule will be adjusted for holidays (Canada Day, BC Day, Labour Day), and select special events (Golden Spike Days Festival, RibFest, Car-Free Day). The bus will travel in a one-way loop, leaving Rocky Point Park approximately every 30 minutes during operating hours.
Riders can hop on or off the shuttle at the following locations:
#1 Rocky Point Park (2800-block Murray Street)
#2 Kyle Street (St. Johns Street at Kyle Street)
#3 Clarke/Douglas (Clarke Street at Douglas Street)
#4 Moody Street (St. Johns Street at Moody Street)
#5 Williams Street (St. Johns Street at Williams Street)
#6 Buller Street (St. Johns Street at Buller Street)
#7 Moray Street (St. Johns Street at Moray Street)
#8 Suter Brook Way (Ioco Road at Suter Brook Way)
#9 Recreation Complex/Civic Centre (Knowle Street)
#10 Eagle Ridge Hospital (Ungless Way at Newport Drive)
#11 Guildford/Balmoral (Guildford Way at Balmoral Drive)
#12 Klahanie (Murray Street at Klahanie Drive East)
#13 Inlet Park (Murray Street at Electronic Avenue)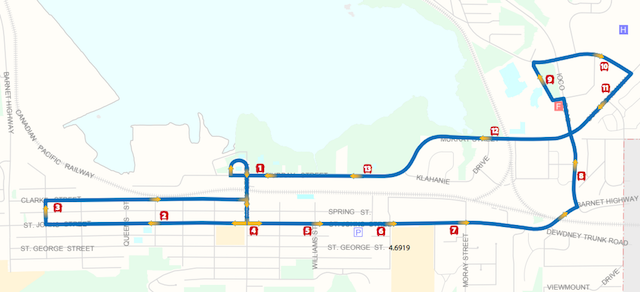 The Shoreline Shuttle can carry a maximum of 20 passengers, or 16 plus two passengers in wheelchairs. The new shuttle bus service is a pilot program. City staff will evaluate the program at the end of the summer and prepare a report for Council. View the full schedule and route map online here.