The Five Acre Shaker actually takes place over 37 acres, in a National Historic Site, surrounded by forests, mountains, and heritage in Port Alberni. FestivalSeekers sent me out to McLean Mill Historic Park to get a preview of the 'fest and I was treated to a set from Vancouver Island rockers Quadra Sound under the water tower lights.
Five Acre Shaker in Port Alberni
Where: McLean Mill Historic Park (5633 Smith Rd, Port Alberni)
When: August 10-12, 2018
Tickets: Available online now
What sets the Five Acre apart is its commitment to cultivating Vancouver Island bands through the Zattzoo Project's Battle of the Bands, where the winner each year gets to play the festival. That grassroots, homegrown support for local music PLUS the stunning setting, and world-class artists (like Swollen Members, WiL, JP Maurice, Deep Sea Gypsies, Sam Klassik, SirReal and more – including Quadra Sound) makes it a top-notch destination festival that should definitely be circled on your calendar this year!
Read more about the history of the Shaker in my FestivalSeekers story here »
The venue has a forest walk trail, creekside hiking paths (dog friendly), a cafe, gift shop, cabins to explore, the giant old sawmill, the Alberni Valley Railway (with a train running in from the city several times a week), and mountain views.
Camp at the festival and you can live at this location AND enjoy the sweet sounds of all 30+ performances. General camping passes are $50 for the weekend, and full weekend festival passes are $100 – get access to the Shady Acres After Party with your camping passes too. Full pass and ticket details are here »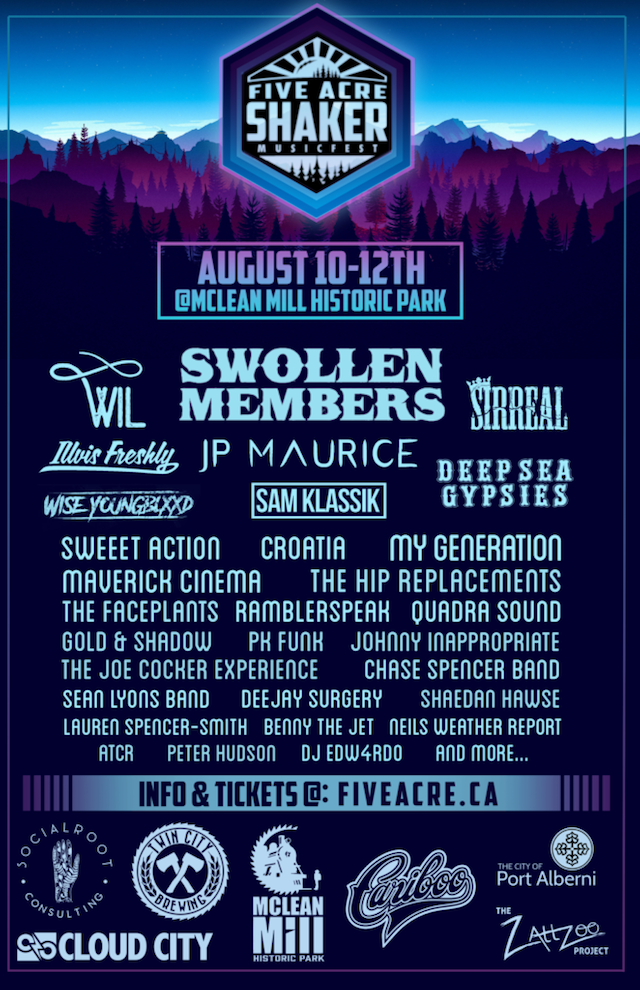 Additional food vendors will be on site, where you can also enjoy comedy acts, wellness workshops (yoga, guided meditation, reiki shares), and more at this fully licensed 19+ event — with family-friendly fun planned for Sunday.
This is also the same weekend as Thunder in the Valley drag racing so start planning your trip to Port Alberni.
If You Go
Uncover more about what the Port Alberni region offers for adventure. Check out ZenSeeker's #ExplorePortAlberni Expedition page to see how you can have an adventure like this.