The annual Richmond Canada Day in Steveston will feature a free, full-day street party throughout Steveston Village alongside the much beloved Steveston Salmon Festival on Sunday, July 1, 2018. Here are 5 features you won't want to miss:
5 Reasons to Attend Richmond Canada Day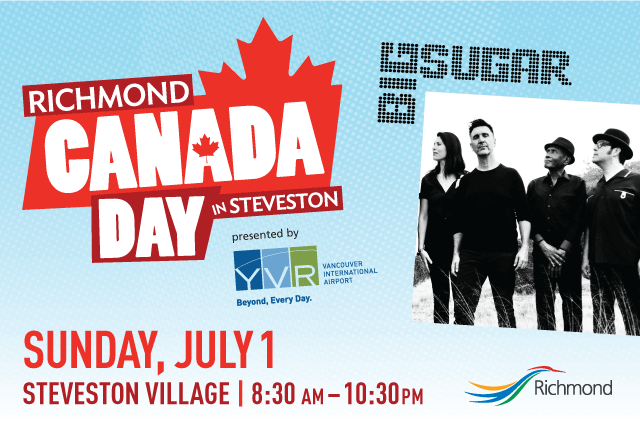 Concerts
The Canada Day Street Party will feature 50 diverse performances on eight stages, including Main Stage performances by Big Sugar, Terra Lightfoot and Vince Vaccaro.
Salmon Festival
The Steveston Salmon Festival is known as Canada's biggest little birthday party! The festival is famous for its salmon barbecue where over 1,200 pounds of wild salmon filets are grilled over open fire pits. An annual tradition since 1945, the Salmon Festival also features a huge Canada Day Parade through historic Steveston Village.
Food & Shopping
Steveston is fun for shopping and dining at any time of year but during the Canada Day celebrations it gets totally amplified with the Salmon Festival Food Truck Zone. Burgers, mini donuts, and Lemon Heaven meet Japadog, SAJetarians Middle Eastern food, Brazilian Roots and more. Shop your favourite or new-to-you boutiques and retailers along with festival vendors.
Local Attractions
Since Richmond Canada Day is taking place in the heart of Steveston, there are no less than four local historic attractions and sites you can check out during the day as well. There's the Gulf of Georgia Cannery, Britannia Shipyards, the Steveston Interurban Tram, and the Steveston Museum which will all be open.
Fireworks!
It just isn't Canada Day without fireworks and thanks to Dueck GM, the riverfront display will begin at 10:15pm.
And did I mention the Hockey Zone? The day kicks off with Salmon Festival's pancake breakfast at 6:30am, followed by a special Canada Day flag raising ceremony at 8:40am. The Canada Day Parade gets underway at 10:00am.
All events are free admission. Follow Fun Richmond on Twitter, Facebook, and Instagam for more info.