Celebrate talented youth at the Surrey Youth Showcase – the City of Surrey's largest annual youth event series. Our Youth Events Squad captures what youth want to see at these events with a theme and help to bring that vision to life. 2018 themes are Basketball, Dance, Cooking and Art.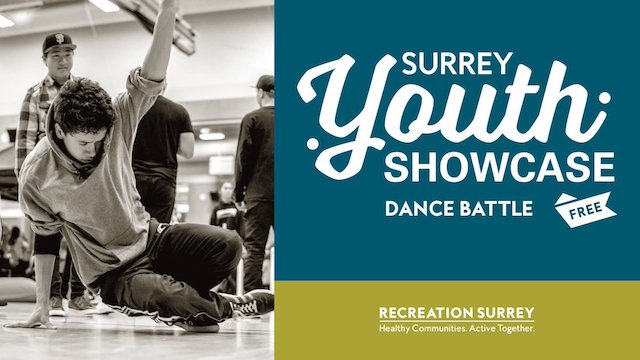 Surrey Youth Showcase Dance Battle and Hip Hop
Where: Fleetwood Community Centre (15996 84 Ave, Surrey)
When: Saturday, May 12, 2018 12:00pm to 6:00pm
Support the local dance scene and compete against some of the most talented breakers and hip hop dancers in Surrey.
Breakers compete in crews of three in the junior (age 16 and under) or senior (ages 17-21) divisions, while teams of 3 to 8 Hip Hop dancers between the ages of 13 and 18 years take part in a choreography contest. Prizes are awarded for first and second place in each division. More than $2,000 worth of prizes is up for grabs!
For the Break Battle, sign up on Facebook or email [email protected] with your crew name, names of dancers, and age category.
For the Hip Hop Choreo Competition, view the rules and regulations and sign up online.
Surrey Youth Showcase
This event is part of the Surrey Youth Showcase and presented in partnership with the Streetrich Hip Hop Society. Miss604 is a proud media sponsor of the Surrey Youth Showcase series.
Follow Surrey Youth on Twitter and Facebook for more information, and join the Facebook event for the latest news.