Straight Out of Sci-Fi is a star-studded fundraiser for 4 year old Luke McCletchie, happening on May 27th. Sci-Fi stars Amanda Tapping (Stargate SG-1, Sanctuary); Simon Barry (Continuum, Ghost Wars); Leah Cairns (Travelers); Aleks Paunovic (Van Helsing, War for the Planet of the Apes); Chelsey Reist (The 100); Rukiya Bernard (Van Helsing) are all coming together for one afternoon to support a young fan who needs all the help the universe can muster.
Straight Out of Sci-Fi Fundraiser
Where: The Improv Centre (1502 Duranleau St, Granville Island)
When: Sunday, May 27, 2018 at 2:00pm
Tickets: On sale now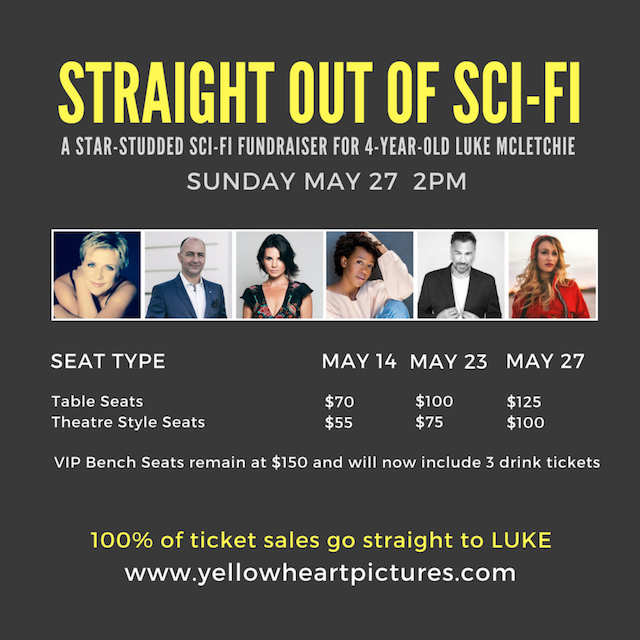 About Luke
Luke has been diagnosed with severe Acquired Aplastic Anemia (AAA), which is a rare, life-threatening bone marrow disease. Only 2 children in 1 million are diagnosed each year in North America. His bone marrow is not producing red blood cells, white blood cells or platelets which puts him at risk for an overwhelming infection or hemorrhage. The best treatment for AAA is a bone marrow transplant however his brothers and parents are not a match. A world-wide search for an unrelated bone marrow donor has been started. Meanwhile Luke is receiving blood transfusions and platelet infusions on a regular basis and has started treatment of immunosuppressant drugs at BC Children's Hospital.
About the Event
Straight Out of Sci-Fi is a fundraiser for for Luke, that will see these sci-fi stars in conversation with award-winning film and TV journalist Sabrina Furminger (YVR Screen Scene). The event offers a kind of "Inside the Actors Studio" but with a sci-fi – and charitable – twist. Also on the schedule: silent and live auctions of rare and unique items; photo opportunities with the stars; refreshments available for purchase; the opportunity to sign up to be a bone marrow donor with Canadian Blood Services' OneMatch program. More info about donating here
It'll be a one-of-a-kind, out-of-this-world, intimate afternoon. All funds raised will be donated directly to Luke's family.
OneMatch Stem Cell & Marrow Network will be onsite registering young males to become potential stem cell donors. Fill out a form, swab your cheek and you might just be the one match to save someone's life! Not a 17-35 year old male? Sign up to become a blood donor! Chelsey Reist from The 100 will be available for photos and signing autographs. You do not need to purchase a ticket for this portion. Attendees during this time will be entered into a draw. Four names will be drawn and those people will get to stay and participate in the rest of the afternoon's activities.
If you are unable to attend you can start the registration process online and you can also donate directly to Luke's family here. Tickets for Straight Out of Sci-Fi are on sale now through the Vancouver TheatreSports box office.