Science World presents The Science Behind Pixar opening May 19th. Visitors to Science World at TELUS World of Science will be inspired by the science and technology behind some of the most beloved animated films and their characters.
Presented locally by White Spot Restaurants, this interactive 12,000 square foot exhibition showcases the science, technology, engineering, and math (STEM) concepts used by the artists and computer scientists who help bring Pixar's award-winning films to the big screen.
Science World Presents The Science Behind Pixar
When: May 19, 2018 to Jan 6, 2019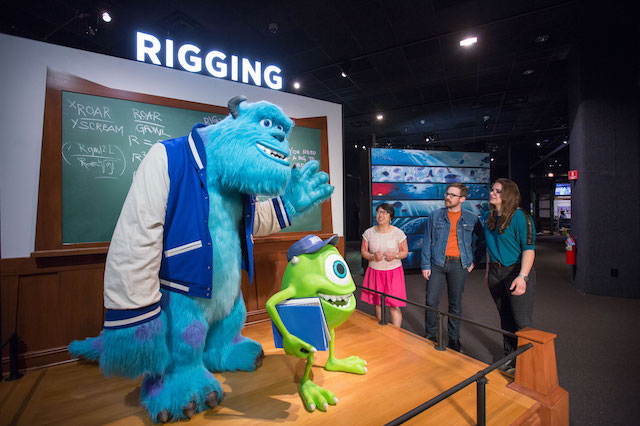 Created by the Museum of Science, Boston and Pixar Animation Studios, and featuring more than 40 interactive elements, The Science Behind Pixar demonstrates the technology that supports the creativity and artistry of Pixar's storytellers.
The exhibition is broken into eight distinct sections, each focusing on a step of the filmmaking process – Modeling, Rigging, Surfaces, Sets & Cameras, Animation, Simulation, Lighting, and Rendering – providing visitors with a unique view of the production pipeline and concepts used at Pixar every day.
Visitors of all ages will engage in and learn about the filmmaking process through hands-on activities inspired by some of Pixar's most treasured films, from the first-ever computer animated feature film Toy Story, which opened over two decades ago, to Pixar's summer 2015 release, Inside Out.
The Science Behind Pixar offers a variety of hands-on activities that empower visitors to imagine the STEM concepts behind Pixar's films in a fun, engaging format. To better understand the science and math that goes into creating the worlds and characters of Pixar's films, visitors will hear first-hand from members of the studios' production teams.
They will also be invited to experience different roles within the production pipeline, through screen-based activities and physical interactive elements. In Sets & Cameras, for example, visitors will discover how a bugs-eye view was achieved for A Bug's Life, through camera angles and large-set design within the computer. Visitors will envision how digital sculptures are created based on sketches from artists in Modeling, and explore Lighting to solve challenges similar to what Pixar artists faced in creating animated water with virtual light in Finding Nemo.
Rigging showcases how the models are given a virtual skeleton to enable the animators to add movement and in Surfaces, visitors can immerse themselves in the techniques behind adding colour and texture to every surface in a film. Visitors will also have the opportunity to take their photo with human-size recreations of many of their favorite Pixar film characters, including Buzz Lightyear, Dory, Mike and Sulley, Edna Mode, and WALL•E.
Follow Science World on Twitter and Facebook for the latest event information.