Summer in Vancouver means a trip to the PNE with the family and no experience is complete without checking out the amazing entertainment lineup that the fair offers each year. This summer is no exception with a roster of exciting concerts announced this week.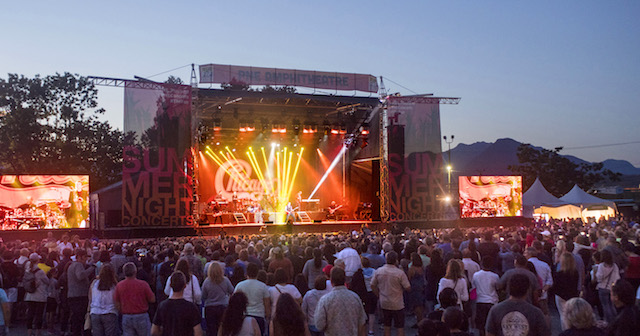 PNE Summer Concerts
The Summer Night Concerts, free with your Fair admission, will run nightly at 8:30pm in the PNE Amphitheatre.
Saturday, August 18 @ 8:30pm Boyz II Men
Sunday, August 19 @ 8:30pm Air Supply
Tuesday, August 21 @ 8:30pm Dean Brody
Wednesday, August 22 @ 8:30pm Goo Goo Dolls
Thursday, August 23 @ 8:30pm I Love the 90s Tour
with Salt-N-Pepa, Color Me Badd & More
Friday, August 24 @ 8:30pm Wilson Philips
Saturday, August 25 @ 8:30pm Marianas Trench
Sunday, August 26 @ 8:30pm Lost 80s Live
with A Flock of Seagulls, Men Without Hats & More
Tuesday, August 28 @ 8:30pm 112 Featuring Slim
Wednesday, August 29 @ 8:30pm Kool & the Gang
Thursday, August 30 @ 8:30pm Jann Arden
Friday, August 31 @ 8:30pm Burton Cummings & Band
Saturday, September 1 @ 8:30pm Chicago
Sunday, September 2 @ 8:30pm Village People
Monday, September 3 @ 8:30pm Cyndi Lauper
Seating & Reserved Tickets
New this year — Free with admission tickets will be available both onsite (at no cost), and online (with small service fee), on show days beginning at 11:00am. These will be general admission tickets which do not guarantee a seat in the venue. Max 2 per person.
Reserved seats start at $25 and will be available starting May 25, 2018 at 10:00am.
New Entertainment and Attractions
Free with admission:
Knights of Valour
Pacific Coliseum, Daily, 1:00pm, 3:00pm, 7:00pm
POPnology
Rollerland Building, Daily, 11:00am to 11:00pm
Action Sports World Tour
Pacific Coliseum, Daily, 4:30, 8:00pm
Street of Dreams
Miller Drive, Open Daily, 11:00am to 11:00pm
Silver Starlets
Festival Park, Daily, 12:30pm, 3:00pm, 5:30pm
NOVA: The Emergence of Light
Festival Park, Nightly, 10:15pm
Lost World of Dragons
Garden Auditorium, Open Daily, 11:00am to 10:00pm
ARCY LIVE! – Live Event Mural
Festival Park, Daily, 11:00am – 6:00pm
The 2018 Fair will run from Saturday August 18, until Monday September 3, 2018, and will be closed on Monday, August 20th and Monday, August 27th. Open 11:00am until late (weather permitting). Follow the Fair at the PNE on Facebook and Twitter.