Car Free Day Vancouver is almost here and being that Vancouver is so enthusiastic about the event, it actually lasts for longer than a day in some neighbourhoods! This is your chance to hop off the sidewalk and stroll the streets of your community, or one you'd like to visit for the day, to experience live music, food, and the culture that makes each of these areas so charming.
Car Free Day Vancouver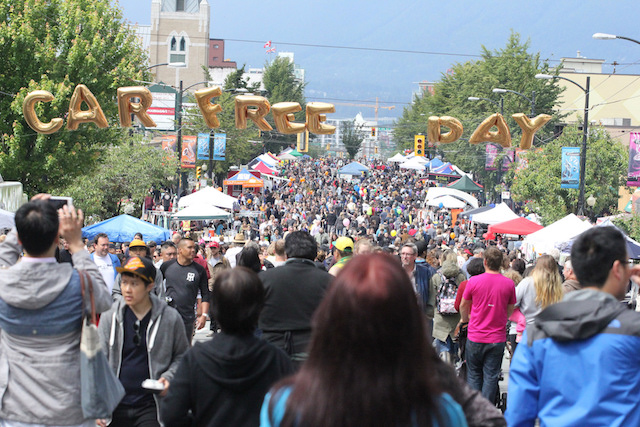 Main Street
When: Sunday, June 17, 2018 from 12:00pm to 7:00pm
Where: Main Street, from Broadway to 30th
Resources: A vibrant mix of vendors, entertainment, businesses, and community members spanning over 20 blocks. Look for mini-festivals, community-supported stages with dozens of bands, multiple kids zones, three giant artisan markets and more. Event Page »
Commercial Drive
When: Sunday, July 8, 2018 from 12:00pm to 7:00pm
Where: Commercial Drive, from Grandview to Venables
Resources: This 15 block fest will be packed with amazing local artisans, vendors and community groups, delicious food straight from the Drive, and tonnes of entertainment and activities for all ages. Event Page »
Kitsilano
When: June 16 & 17; June 30 to July 2, 2018
Where: Various locations
Resources: In Kitsilano, it's all about the individually-hosted block parties. Instead of closing off a major street, people throughout Kits host block parties with their neighbours. Some have dancing, some have music, some have couches, chairs and carpets in the middle of the street. All of them are a fun, relaxing chance to hang out with the people who live in your neighbourhood. Event Page »
West End
When: Saturday, June 16, 2018 from 12:00pm to 7:00pm
Where: Denman Street, from Georgia to Davie
Resources: Event Page »
Follow the main Car Free Day Twitter and Facebook accounts for the latest news and links to each event. Use hashtags #CFDrive #CFKits #CFMain #CFWest when tweeting about your car free neighbourhood.