The VPD Recovered Goods Auction will take place on Saturday, comprising of goods recovered by the VPD and have gone unclaimed for the past six months. Many of these items will be auctioned off for a fraction of their original value.
VPD Recovered Goods Auction
Where: Able Auctions (13557 77th Ave, Surrey)
When: Saturday, April 28, 2018 at 9:00am (doors open to public at 8:00am)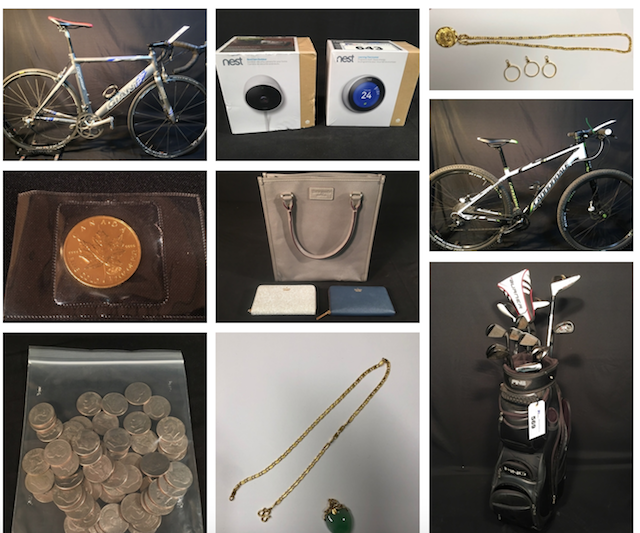 There is an upswing in stolen jewelry this year – 86 lots of jewelry that will all be up for bid on Saturday. Here's the full scoop, from the VPD:
Jewelry will range from gold bangles to engagement rings to Swarovski crystal necklaces. Some noteworthy jewelry lots include a 14-karat white gold Diamond dress ring set worth more than $12,000; a variety of natural gems, such as emeralds, diamonds and a Star Ruby; and multiple Jade carvings, in the shapes of dragons, fish and Buddha.
The auction is most-known for its high-end bikes, and this year almost 300 of the top-tiered will be auctioned off. This includes mountain, downhill, racing bikes and retro-cruisers. Other items include snowboarding and water sport gear, skiing equipment, tools, designer purses and sunglasses, and an assortment of household items.
Some attention-grabbing items that are sure to be crowd favorites this year include 14 lots of foreign currency; collector coins and collector cards; a ladies Rolex wrist watch worth almost $13,000; a one-ounce fine gold bar, issued by the Swiss Bank; and rifle scopes.
Other lots to look out for this year are an impressive array of musical instruments ranging from a Fender electric guitar to a wood violin; and an assortment of men and women's designer clothes and accessories, including a Victoria Beckham blouse worth upwards of $15,000.
It's time for the Vancouver Police Property Auction! The auction is taking place on Saturday, April 28th at 9am. You can preview the items available for sale on Thursday, April 26th & Friday, April 27th at Able Auctions in Surrey. For more info go to https://t.co/36vNWUUC8v. #VPD pic.twitter.com/jjwwzO6yN0

— Vancouver Police (@VancouverPD) April 24, 2018
Previews will take place on Thursday April 26th and Friday April 27th 12:00pm to 6:00pm. You can view some of the items online here too »