Mt. Seymour will once again host the Vans Hi-Standard Snow Series World Tour, which will circle the globe and stop in North Vancouver for one day only on March 10th.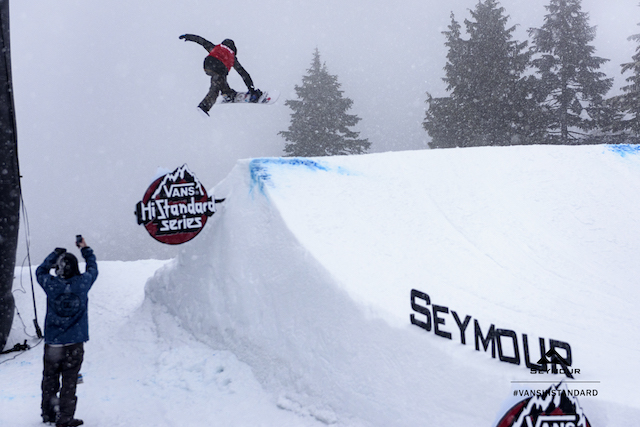 Vans Hi-Standard Snow Series World Tour at Mt. Seymour
Vans is thrilled to announce the return of the 2018 Vans Hi-Standard Series, Vans' annual international snowboard event. The tour will visit Canada, China, South Korea, Finland, and the US, bringing this all-ages snow series around the world to invite riders to showcase creative expression in a fun open-jam format.
Featuring a big air session where participants are judged solely on their individual style with no inverts or spins over 720 allowed, regional MVPs will win an all-expenses paid trip to the grand finale show at Sierra-at-Tahoe for a chance to snowboard with the Vans snow team and battle it out for the 2018 Vans Hi-Standard Series MVP series title.
When the world tour hits Mt. Seymour on March 10th, all participants will get free registration, lift tickets and lunch vouchers. Register as a rider online today! There are only 45 spots available for online preregistration and the rest on site the morning of the event. There is a limit of 90 riders total.
With more than $50K in cash and prizes up for grabs, this all-inclusive snowboard event challenges riders to push the limits with creative tricks while keeping in mind that "style is everything." The "Van Doren Rail Best Trick" will handout cash on the spot for most innovative maneuvers while Vans rewards the "Most Improved Rider," "Worst Bail," and crowns an MVP on each stop of the tour. With no rotations over a 720 permitted, only the most creative competitor with pure style and originality will be awarded with the MVP title.
Mt. Seymour Event Schedule
8:30am to 9:30am Registration
10:00am to 11:00am Free practice for all categories
11:00am to 11:45am Paid session – 15 and under and 30+
11:45am to 12:30pm Paid session – 16+
12:30pm to 1:15pm Lunch and course maintenance
1:15pm to 2:00pm Paid session – 15 and under
2:00pm to 2:45pm Paid session – 16+
3:00pm to 4:00pm Van Doren Rail Best Trick
4:15pm Awards ceremony
2018 VANS HI-STANDARD SERIES OFFICIAL DATES
January 13 – Mount St. Louis, Ontario, Canada
January 20 – Mont Avila, Quebec Canada
January 28 – Nashan Mellow Parks, Beijing, China
February 3 – Mount Snow, Vermont, United States
February 3 – Welli Hilli Park, South Korea
February 17 – Mount Norquay, Alberta, Canada
March 3 – Talma Ski, Finland
March 4 – Copper Mountain, Colorado, United States
March 10 – Mt. Seymour, British Columbia, Canada
March 17 – GRAND FINALE – Sierra-at-Tahoe, California, United States
Spectators welcome! Follow Mt. Seymour on Facebook and Twitter, and use the tag #VansHiStandard, for more information.