Vancouver's alleys and laneways seem to be more prominent than any other major city's. Ours appear in movies and television shows all the time (from the Neverending Story to Deadpool), they get a fun pink and yellow makeover complete with basketball court, and they feature some amazing art.
We also have some alleys that have a lot of historic meaning, like Hogan's Alley, Gastown's Trounce or Blood Alleys, or Ackery's Alley in the entertainment district.
Recently, some alleys in the West End have received some very important names:
Vancouver West End Lane Namesakes
Source: City of Vancouver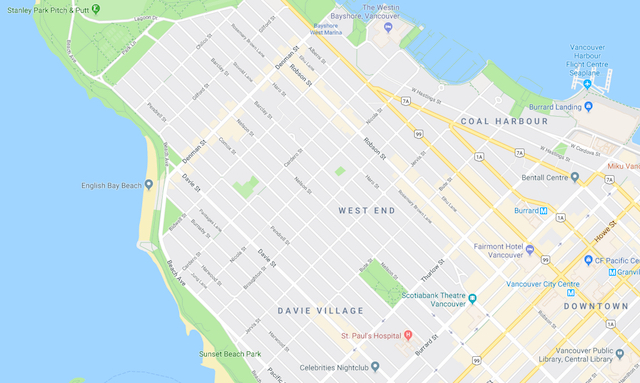 Eihu Lane Between Alberni and Robson
With his family, Eihu was one of the original settlers at Kanaka Ranch on the shore of Coal Harbour, an informal settlement of native Hawaiians.
Rosemary Brown Lane Between Robson and Haro
Rosemary Brown (1930-2003) First Black Canadian woman to be elected to a Canadian provincial legislature. After departing politics, she became a professor of Women's Studies at SFU and was later appointed Chief Commissioner of the Ontario Human Rights Commission.
Stovold Lane Between Haro and Barclay
Kathleen "Kay" Stovold (1911-2001) Community advocate and volunteer for seniors and people with disabilities. In 1979 cofounded and was president of the West End Seniors Network (Barclay Manor). WESN Kay Stovold Memorial Fund was established on her death in 2001, managed by VanCity Community Foundation. Kay's Place is a drop-in centre in Denman Place Mall.
ted northe Lane Between Barclay and Nelson
ted northe (1937-2014) A leader in the fight against AIDS and in defining the modern LGBTTQ+ community and human rights movement in Canada. Founded many organizational "firsts": Gay Businessmen's Guild, gay sports league and others. Was involved in organizing the first Pride Parade in Vancouver.
Henshaw Lane Between Nelson and Comox
Julia Henshaw was an accomplished writer and botanist who spent part of her life in the West End. She originally came to the Lower Mainland in 1890. She was a founding member of the Canadian Alpine Club, the Vancouver Musical Club and the Georgia Club, was involved with the Imperial Daughters of the Empire and Women's Canadian Club, worked as a newspaper columnist and literary and theatre critic, and served in the First World War.
Jepson-Young Lane Between Comox and Pendrell
Dr. Peter Jepson-Young (1957-1992) Medical doctor in Vancouver, diagnosed with AIDS in 1985. Created TV series "Dr. Peter Diaries" which did much to educate the public about HIV and AIDS and put a human face on the disease.
See-em-ia Lane Between Pendrell and Davie
Mary See-em-ia was the granddaughter of Chief Capilano and wife of indigenous Hawaiians Eihu and Joe Nahanee. She and her family were residents of Kanaka Ranch, a settlement on the south shore of Coal Harbour, near Stanley Park.
Pantages Lane Between Davie and Burnaby
Peter Basil Pantages (1901-1971) Restauranteur and Polar Bear Club founder. The proprietor of the Peter Pan Café at 1180 Granville Street, Pantages established the Polar Bear swimming club and served as its director for 51 years.
Maxine Lane Between Burnaby and Harwood
Maxine MacGilvray (ca 1892-1952) Originally from Wisconsin, ran hairdressing salon at Spencer's Department Store from 1914, then established very successful salon and beauty school; products locally manufactured with help of chemist husband. Facade of Maxine's Beauty School preserved at 1209 Bidwell (now a coffee shop).
Jung Lane Between Harwood and Pacific
Vivian Jung (1924-2014) was the first Chinese-Canadian teacher hired by the Vancouver School Board. During her teacher training Vivian was required to obtain a lifesaving certificate. City policy at the Crystal Pool at Sunset Beach prevented Vivian from entering and swimming with her fellow students and teachers. In response, the group refused to enter without Vivian and, with that action, the long-standing colour bar at the City's only public swimming pool ended. With her teaching certificate she was hired at Tecumseh school where she taught for 35 years.
You can see the City's Reserve List of names here, to get a glimpse at approved names that might be used in the future. Want to browse more namesakes? Check out these Stanley Park Trail Namesakes 1, 2, 3.