Fans are going to seriously enjoy the food and snack options at BC Place this Whitecaps FC season, with menu items ranging from Chickpea Buddha Bowls and Crispy Fried Cod Tacos, to Pulled Pork Mac & Cheese and a Beer Brined Bacon BLT — you'll want to come hungry on match day.
Food Options at BC Place for Vancouver Whitecaps FC Matches
Media were invited to the pitch for a pop-up dining event before Sunday's season kick-off, to preview these menu items and more. President Bob Lenarduzzi and BC Place's Senior Director of Business Graham Ramsay gave a quick season preview and some of the stadium's warm up videos played on the big screen.
Whitecaps captain Kendall Waston was also on hand to make some Korean BBQ Chicken Bowls with Centerplate's Executive Chef Will Tse.
Chef Tse said he's inspired by Vancouver and so he and his team create dishes and snacks that reflect the city around us.
BC Place Menu Highlights
On top of your regular stadium favourites (at the Lions Gate Grill, Commercial Drive Pizza, Vij's, Dawson's Hot Dog, and The Poutinerie), try some of these new creations this year, paired with your favourite pop, juice, coffee, local craft beer or BC wine this season:
BOOM! Kitchen
Sections 210 & 244
Korean BBQ Chicken Bowl: Crispy seared chicken thigh, Asian slaw, soy ginger garlic sauce, toasted sesame, served on jasmine rice.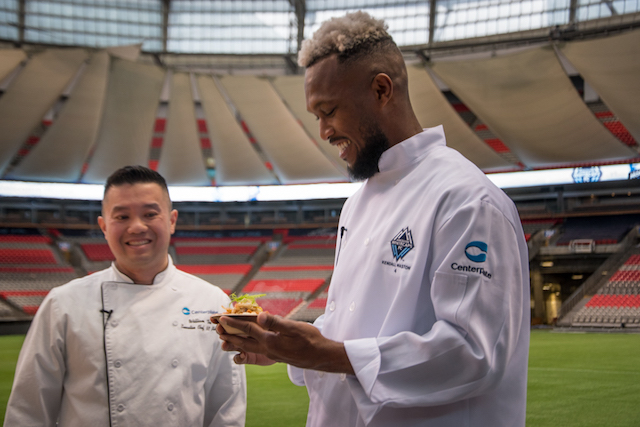 BOOM! Kitchen Nachos & Cheese: Yellow tortilla chips, truffle cheese sauce, olives, green onion, jalapeños, crème fraîche, salsa fresca, *add Korean chicken or pulled pork.
Mac & Cheese: House made three cheese sauce, *add Korean chicken or pulled pork.
Beast on Fire
Sections 217 & 237
Beer Brined Bacon BLT: Mill Street Organic Lager-brined bacon (cured and smoked in house), with tomato, sourdough, roasted garlic aioli, served with kettle chips.
House Smoked Beer & Cheddar Sausage: Goose Island IPA, aged cheddar, stone ground mustard aioli, soft bite bun, served with kettle chips.
Chickpea Buddha Bowl (V)
Roasted and spiced chickpea, fried cauliflower, sautéed onion and mushroom, salsa fresca, fresh parsley, served on brown rice.
Steveston Fish N Chips
Located in the Food Court
Crispy Fried Cod Tacos: Battered cod, green cabbage slaw, salsa verde, pickled red onion, served with kettle chips.
Pacific Panini
Tuscan Grilled Panini: Eggplant, zucchini, red onion, tomato, mozza, basil pesto.
Southwest Burrito Bowl: Cajun chicken, roasted corn, brown rice, black bean, salsa fresca, green onion.
Gluten free and vegetarian options are also available at BOOM! Kitchen. And, our favourite, The Thirsty Pigeon (for local craft beer) is located in Sections 203, 234, and 248.
Follow BC Place and the Whitecaps for match-day food and beverage options and specials. To prepare for the start of the season, read this primer 10 Things You Need to Know Before First Kick »