Vancouver Whitecaps FC kick off the 2018 Major League Soccer regular season against Montreal Impact this Sunday at BC Place at 3:00pm. It's Vancouver's 8th season in MLS, and our 7th as season ticket holders, and there are quite a few changes to take note of before first kick.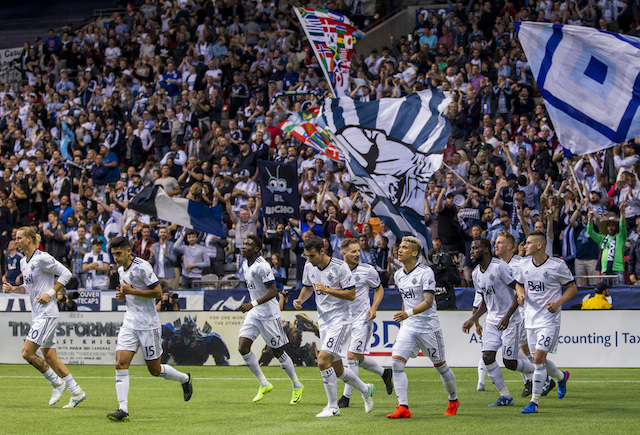 10 Things You Need to Know Before First Kick
The club is hoping that fans will arrive early to take part in pre-match festivities, which begin at 1:30pm, and if you're a member of the Southsiders, there are some new and exciting updates for you too!
1. Happy Hour: $5 beers will be sold via hawkers in the supporters' section stands (sections 207-248) in the hour prior to kickoff (2:00pm to 3:00pm on Sunday). Make sure to get into the building early to take advantage of this great deal (offer only available to those with tickets in the supporters' section).
2. Opening presentation: The largest and most ambitious game presentation update the club has undertaken since moving into BC Place in 2012. The completely redesigned procession features state of the art effects, a brand-new team intro video, player walkout from the supporters' section, and more. Make sure to be in your seat early so you're not missing out on the new opening! The club has also completely redesigned every videoboard production element along with a substantial update to the layout of the LED Ribbon board to create one of the most sophisticated presentations in MLS.
3. Ford Family Zone: Sections 224 to 231 will now become the Ford Family Zone during 'Caps matches at BC Place. Parents and kids are encouraged to stop by the 'Caps Clubhouse presented by Ford in the concourse area at section 231, where they can participate in games and colouring while making their own signs or borrow flags to show their support in the stands. There will also be games pre-match outside at Gate C – the direct entrance to the Ford Family Zone.
4. Kid Captain of the Match: The 'Caps have teamed up with its supporters' groups to honour a "Kid Captain" prior to each match this year. The first Kid Captain will be 16-year-old Taylin McGill, a true BC Children's Hospital success story who has overcome 14 brain surgeries. McGill will also be introduced as part of Vancouver's starting XI on the videoboard prior to kickoff. Make sure to give her a big round of applause! A different fan will be included in the 'Caps starting XI for each home match this season.
5. 50/50 credit and debit card option: Fans will now have the option to purchase 50/50 tickets by credit card, debit, or cash. The jackpot for Sunday's match will start at $56,060 after a rollover from 2017.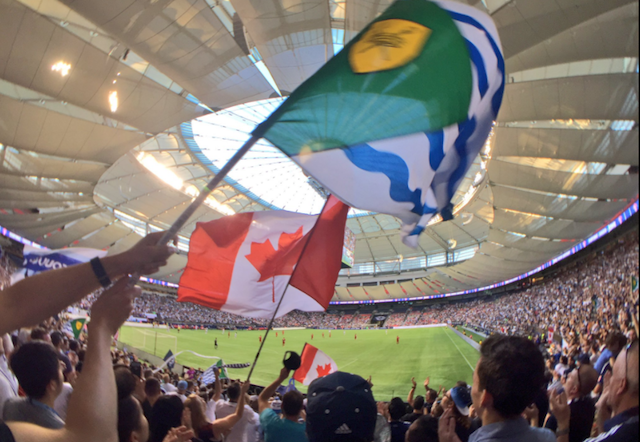 6. New games at 'Caps Kickoff: Fans of all ages are invited show their support for the 'Caps at this fun pre-match event running from 1:30pm to 2:45pm on Terry Fox Plaza, featuring fun games, activities, and entertainment.
7. Marching band: Make sure to be in your seats before the start of the second half as the Whitecaps Marching Band welcomes the 'Caps back onto the pitch! They will also perform pre-match at 'Caps Kickoff on Terry Fox Plaza.
8. Bike Valet: Now located at the bottom of the staircase in front of Gate C on Griffiths Way.
9. Water bottle policy: Empty, refillable soft walled plastic water bottles with lids are permitted into the stadium and are subject to search at the gate. Please note that hard-walled water bottles are NOT permitted into the stadium. Bottles can be filled at drinking fountains located on the main concourse. Bottled water can also be purchased from concessions.
10. Bag policy: As per last year, the bag policy remains in effect. In compliance with MLS policy, no bags larger than 14''x14''x6'' will be permitted into the stadium and must fit into the sizing bin available at each gate.
BONUS! Southsiders Update
Canada's oldest and largest supporters club, the Vancouver Southsiders, have a new home pub and a new route for their world famous March to the Match.
Doolin's has been incredible over the years but they have now moved over to the Blarney Stone, which is offering some incredible deals for card-carrying Southsiders members including discounts and match-day specials for all ages – like free pancakes for kids this Sunday!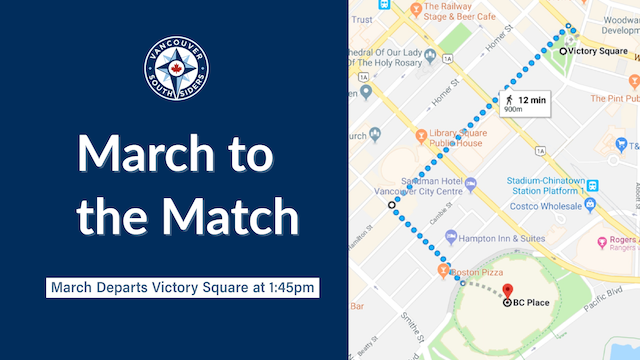 Here are some key times for the very first match this 2018 season:
11:00am The Southsiders will officially kick off the season at The Blarney Stone. All-ages welcome!
1:30pm Settle up your bill and head to Victory Square.
1:45pm Whitecaps Legend Carl Valentine with lead the March to the Match departing from the corner of Hamilton & West Pender, heading southbound on Hamilton to Robson Street / Whitecaps Way and into BC Place via Terry Fox Plaza.
For supporter info, follow the Southsiders this season and consider joining me as a fellow member.