Spring Break is almost here and what's better than exploring, discovering, and enjoying some local attractions while school's out? Enjoying them at no cost! Here are some recommended activities that will roll out a ton of fun, while not breaking the bank.
10 Free Spring Break Activities in Vancouver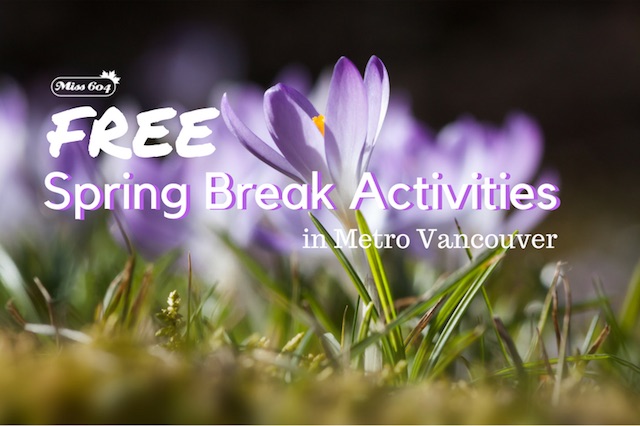 Parks Canada: Did you hear? It was announced at the start of this year that admission to all national parks, national historic sites, and national marine conservation areas operated by Parks Canada will be provided free of charge for youth 17 and under. In Metro Vancouver, we have two Parks Canada attractions that are now free:
1) Spring Break at Fort Langley National Historic Site
March 17 to April 2, 2018
Learn more about the ecology of the river and its important connections with the Stó:lō people through Fort Langley's Feature Presentation. Discover fishing tools and techniques used by the First Nations people during our hands on Historic Treasures program. Pack a barrel full of salmon in the Salmon Run Activity! Weekends only: Tag along on one of our NEW daytime walking tours through the town of Fort Langley.
2) Spring Break at the Gulf of Georgia Cannery
March 16 to March 29, 2018
Learn about Canada's west coast fishing history with the whole family through the Cannery's interactive exhibits. Kids 6-11 years old can pick up a Parks Canada Xplorer activity booklet filled with fun activities to help explore the spacious 55,000 square foot historic cannery. For little ones 5 and under, find fishy-themed toys, games, and dress-up inside the Cannery Kids' Corner.
The next two attractions are both run by the Vancouver Park Board and have free admission (up to two free child admissions with the purchase of a regular price adult, senior, or youth admission) from March 1 to March 29, 2018:
3) VanDusen Botanical Garden
March 1 to March 29, 2018
Explore this 55-acre oasis in the heart of Vancouver with over 7,500 plant species and varieties from around the world. Spot and photograph local wildlife, find your way through an Elizabethan hedge maze, unwind in a serene setting, dine on the patios of Truffles Cafe or Shaughnessy Restaurant, or browse the garden-themed gift shop.
4) Bloedel Conservatory
March 1 to March 29, 2018
Bloedel Conservatory is a domed lush paradise located in Queen Elizabeth Park atop the City of Vancouver's highest point. More than 120 free-flying exotic birds, 500 exotic plants and flowers thrive within its temperature-controlled environment.
5) Steveston Interurban Tram
March 17 to April 2, 2018
For 55 years, iconic interurban tram cars transported people throughout the Lower Mainland, from Steveston to the Fraser Valley. One of these tram cars, the 106-year old Interurban 1220, is now housed in a beautiful light-filled building on the corner on No.1 Road and Moncton Street. Get hands on with our new mobile discovery corner and make sure you pick up a special spring break Steveston History Hunters scavenger hunt that will also have you exploring the Steveston Museum & Visitor Centre.
One of my favourite local attractions, that combines seasonal events with local heritage is the Burnaby Village Museum:
6) Spring Break at Burnaby Village Museum
March 19 to March 29, 2018 from 11:00am to 4:30pm
Learn about lead type at the printshop, talk to the teacher in the one-room schoolhouse, watch a silent black & white movie, chat to the clerk at the General Store, explore the restored Interurban tram, hear and smell coffee grinding in the General Store. Free admission, always! And carousel rides are only $2.65 each.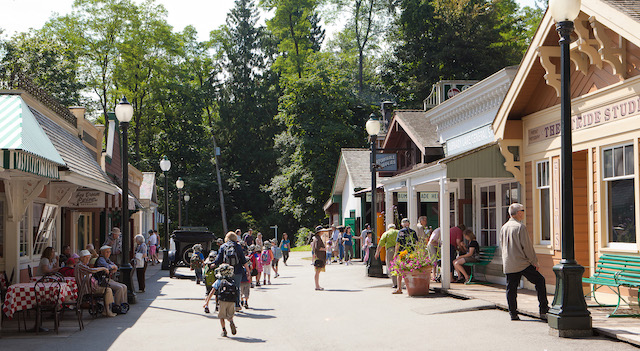 Head up Highway 99 along beautiful Howe Sound and stop in at this attraction (free for up to three children, 12 and under accompanied by at least one adult) to enjoy fun activities and outdoor adventure:
7) Spring Break at the Sea to Sky Gondola
March 17 to March 30, 2018
The Sea to Sky Gondola's forested trails are the perfect backdrop for unstructured play time in nature, and the summit's viewing platform's iconic views are the perfect place to break out the selfie stick for some candid family photos. Families can also discover mountain peaks and Howe Sound vistas from various scenic viewpoints and check out the 100-metre-long Sky Pilot Suspension Bridge before warming up with a hot chocolate and a snack in the lodge.
8) Metro Vancouver Regional Parks
Check out free drop-in programs at regional parks like the Enchanted Forest at Aldergrove Regional Park on March 29th, Follow Their Footsteps: Animal Signs at Kanaka Creek on March 18th, and Super Animal at Burnaby Lake Regional Park on March 20th. Don't miss the Surrey Nature Centre's Spring Fling on March 21st with guided walks, story times, face painting, and nature-themed crafts.
There's a lot to do outdoors but if the weather doesn't cooperate, then there are still some indoor options:
9) Story Time & Craft at HighStreet in Abbotsford
March 13, 20, 27, 2018
Every Tuesday inside the Marshalls Lobby on the Podium Level from 9:30am to 10:30am
10) Vancouver Art Gallery
March 19 to March 23, 2018
Kids 12 & under will receive free admission to the Gallery as part of an extension of their Weekly Family Programs. Children must be accompanied by an adult, and regular admission rates do still apply to the children's parent or guardian. Admission includes access to all of the exhibitions as well as the Weekly Family Programs.
And an honourable mention to $2.99 movies at Cineplex Theatres showing Cineplex Family Favourites at 18 BC movie theatres March 12 – March 16, 2018. They also offer $2.99 admission to Cineplex Family Favourites at 11:00am on Saturday mornings. A portion of the proceeds goes towards supporting WE Charity.
Update Join Variety BC for a FREE screening of Sgt. Stubby – An Unlikely Hero on March 28th at the Scotiabank Theatre on Burrard. RSVP here »