Believe it or not, the original Luke Skywalker® Lightsaber® will be on display for a limited time between March 9–19 in Science World's feature exhibition, The Science of Ripley's Believe It or Not! presented by Save-On-Foods.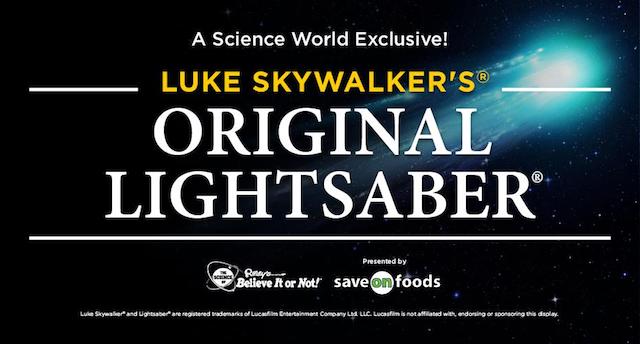 The Lightsaber will be on display for ten days but you can attend a special event in its honour on March 9th.
Luke Skywalker Lightsaber at Science World
What: The Original Lightsaber® Event
When: Friday, March 9, 2018 7:00pm to 10:00pm
Where: Science World at TELUS World of Science
Tickets: $29 + GST, available online now
To kick off this tour de Force, Science World invites you to join us for an out-of-this-world evening, in a science centre that's not so far away. The event will feature the actual Lightsaber used by Luke Skywalker in Episode V, The Science of Ripley's Believe It or Not! feature exhibition and a series of costume contests, plus appearances by Vancouver's 501st Legion and other local organizations.
The Original Lightsaber® Event Schedule:
7:00pm – Doors Open
8:00pm – Rebel Costume Contest
8:30pm – Empire Costume Contest
9:00pm – Other Costume Contest
9:30pm – Costume Contest Finals
Please note, this is a 19+ event. Refreshments will be available for purchase. Triple O's will be open for dinner service until 9:00pm. For everyone's safety, there will be a weapons check at the door. Any Nerf®-related weapons cannot be functional.
Follow Science World on Twitter and Facebook for the latest event information.