CityFood Events presents the 8th annual Vancouver Hot Chocolate Festival, partnering with some of the city's best chocolatiers, pastry shops, bakeries, cafes, gelato and ice cream makers to offer up delicious drinks and snacks that will warm you up this season.
Vancover Hot Chocolate Festival
When: January 20th to February 14th, 2018
Where: Various locations throughout the city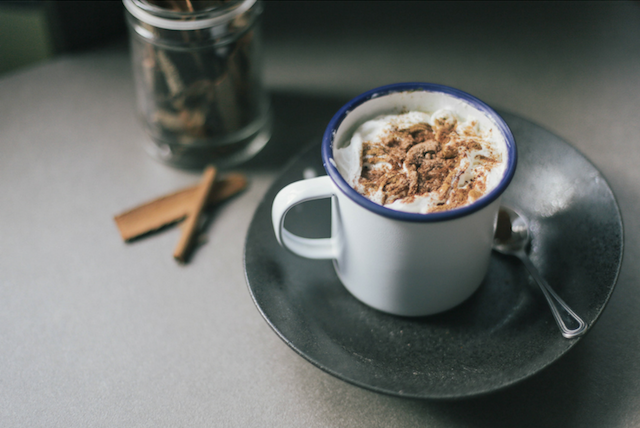 Confirmed Participants
Confirmed locations are offering up 75 flavours of hot chocolate! How about dark Chocolate, espresso and steamed milk topped with vanilla cream and chocolate sprinkles at 49th Parallel, or carrot cake hot chocolate with Valrhona Dubey 32% blonde chocolate, warm spice and carrot crema from Bel Cafe? Then there's vegan, salted, almond, dark hot chocolate with pink peppercorns served with Koko Monk's signature Vegan Root Vegetable Dark Chocolate Bark, or a 49% hot chocolate with chestnut served with a chestnut and coconut rum snowball truffle from Thomas Haas?
Bel Café
Bella Gelateria
Cartems Donuts
Chez Christophe
Chocolate Arts
Diva at the Met
Earnest Ice Cream
East Van Roasters
Eternal Abundance
Gem Chocolates
La Glace
Terra Breads
Swiss Bakery
Butter Baked Goods
49th Parallel Coffee Roasters
Baggio Gelateria and Pizzeria
Glenburn Soda Fountain & Confectionery
Doughgirls Comfort Kitchen and Bakeshop
James' Gelato at Mahony & Sons
Koko Monk Chocolates
Mink Chocolates
Mon Paris Patisserie
Soirette Macrons & Tea
Temper Chocolate & Pastry
Thierry Chocolaterie Patisserie Cafe
Thomas Haas Chocolates
Trafiq Cafe and Bakery
Partner Charities
The Downtown Eastside Women's Job Training Program of the PHS Community Services Society, run by East Vancouver Roasters, and Fresh to Families, a project conceived by the Farmers Market Association and set up and managed under the VanCity Community Foundation. A third partner is yet to be announced.
Follow the Vancouver Hot Chocolate Festival on Facebook, Instagram, and Twitter for all the latest updates.