by

Disclosure: Sponsored Post

— Published in partnership with the City of Coquitlam Please review the Policy & Disclosure section for further information.
These leisurely Coquitlam walks offer scenic views, minus the hiking boots. Whether you're toting a young child or simply in the mood for a short afternoon stroll, these five trails are ideal for all ages and abilities. Did we mention that one of the locations also happens to be home to Metro Vancouver's largest free festive lights display?
5 Easy Trail Walks to Try in Coquitlam
1. Lafarge Lake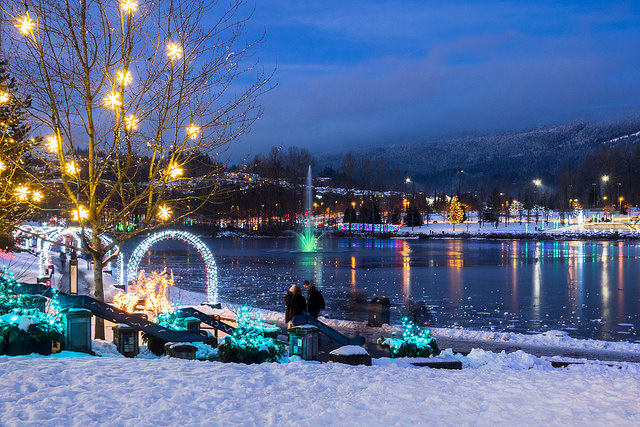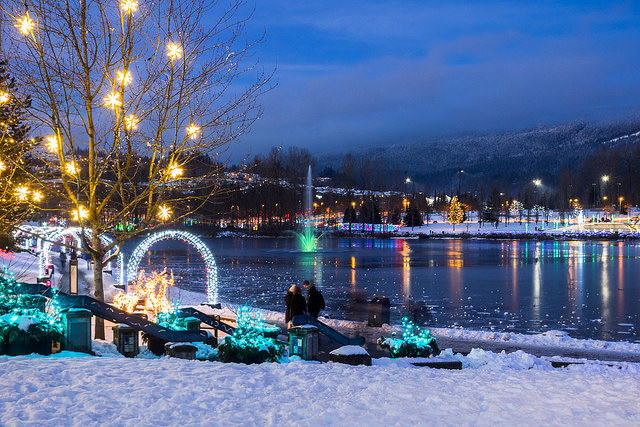 A 1.2km trail loops this popular urban lake in Coquitlam's Town Centre Park, offering views of both mountains and cityscape. It's also home to the Lower Mainland's largest free festive lights display, starting at dusk on Saturday, November 25, and running until January 21, 2018. Hundreds of thousands of lights will circle the lake in multiple themed zones. The Lafarge Winter Lights Display is just steps away from Lafarge Lake-Douglas SkyTrain station, also with free two-hour parking in Lot D off Trevor Wingrove Way.
2. Mundy Park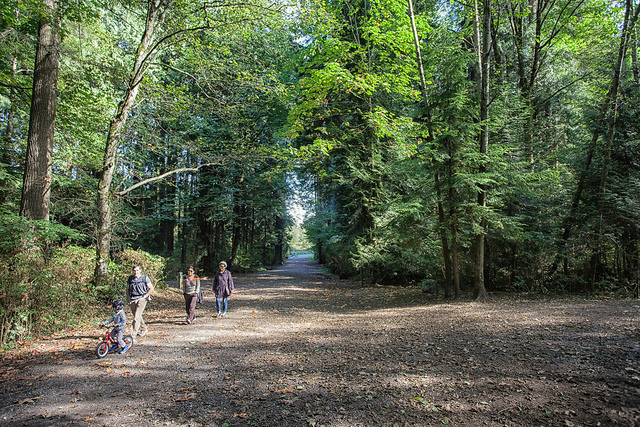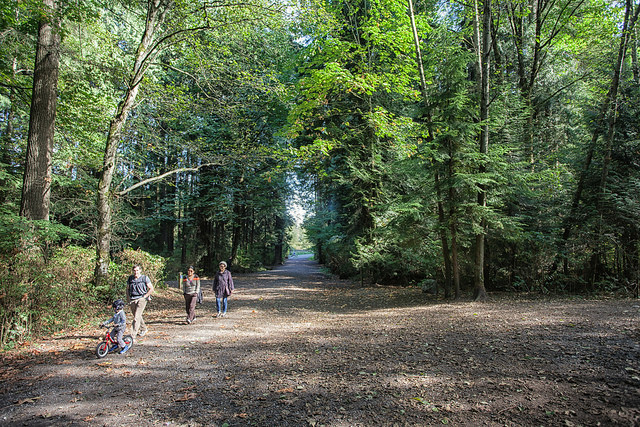 The city's largest park, at 400 acres, Mundy Park is rated by TripAdvisor as the #1 thing to do in Coquitlam. Home to two lakes, coastal rainforest and a 16km trail network, its mostly flat paths offer the easy "hiking" experience without having to trek up a mountain. The park is accessible by transit and offers free parking.
3. Hoy Creek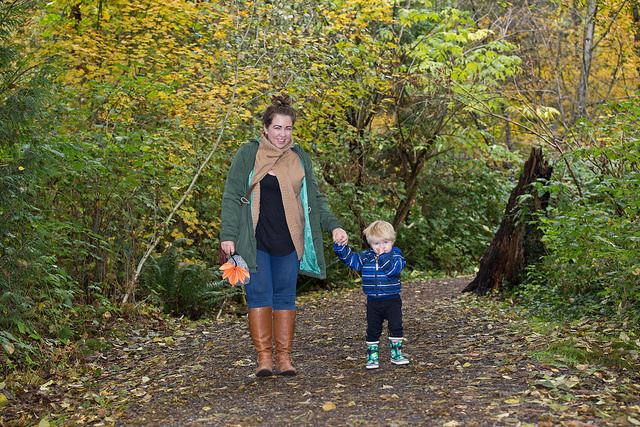 This flat, gravel trail stretches for 2.8km and offer prime viewing of spawning salmon at Hoy Creek. Whether you're a young child, an international visitor or a seasoned wildlife spotter, this scene never fails to impress. Duck into the trail off Guildford Way, a short walk from Lafarge Lake-Douglas SkyTrain station.
4. Como Lake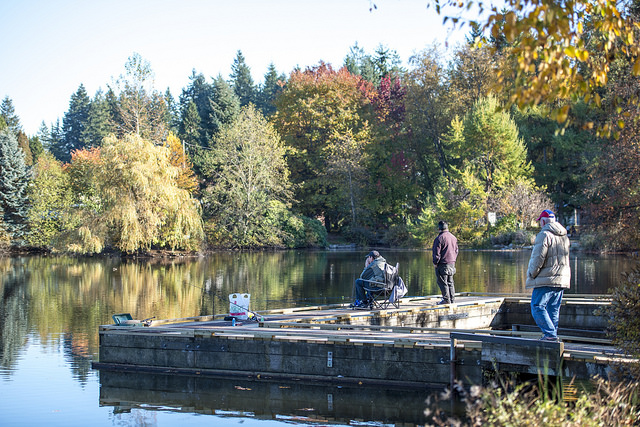 You might want to pack your fishing rod to reel in a rainbow trout after your walk at Como Lake. A 1km trail circles this pretty lake, which is stocked with fish. You'll also find a playground on site. The lake is accessible by transit and has free on-site parking.
5. Colony Farm Regional Park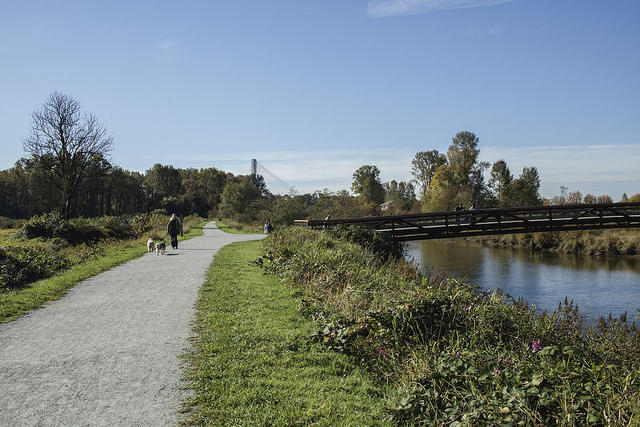 Bird watchers flock to this immense park to spot rare bird life including great blue herons, purple martins and the elusive lazuli bunting. The terrain at Colony Farm Regional Park is crisscrossed by flat, wide trails, ideal for long, meditative walks. The park is accessible by transit (bus from Coquitlam Central), also with on-site parking.
What's on in Coquitlam This Month
Hard Rock Casino Vancouver: Did you know Coquitlam is home to Canada's only Hard Rock Casino? Check the website for music and events, including The Simon & Garfunkel Story on November 2, plus Fourever and Satisfaction (tributes to The Beatles and The Rolling Stones) on November 11, 2017.
Coquitlam Express:
November 11, 17, 19 & 29, 2017
Round up the family for a fun night of hockey that won't break the bank. Cheer for the team, cold drink in hand, while scoping out the talent of the BCHL.
Brighten Up!
November 17 to December 13, 2017
A host of events, performances and workshops across multiple Coquitlam venues, including Place des Arts, which will let your creative inner light shine.
Santa at Coquitlam Centre
November 22 to December 24, 2017
Ho, ho, ho! Let the wish lists begin.
Coquitlam Christmas Craft Fair
December 1 to 3, 2017
Head to Poirier Forum to shop for locally crafted Christmas gifts from more than 100 artisans including handmade art, jewelry, food, clothing and home décor items. The venue is at 618 Poirier St. Entry is $3 adults, $2 seniors, children 12 and under are free.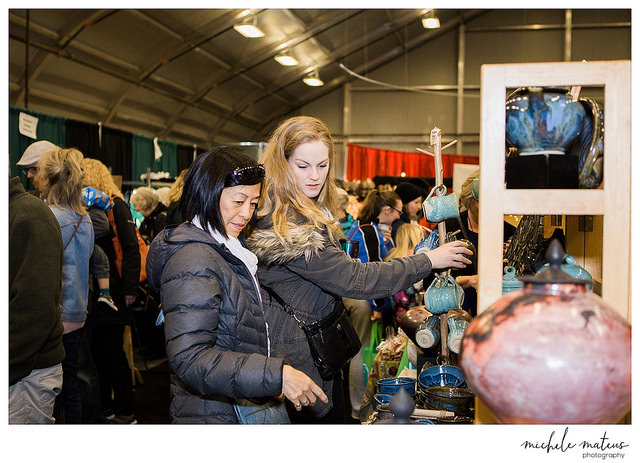 Read about all of these events and more online, and share your fun summer photos using #explorecoquitlam.