by

Disclosure: Sponsored Post

— Published in partnership with ZenSeekers Please review the Policy & Disclosure section for further information.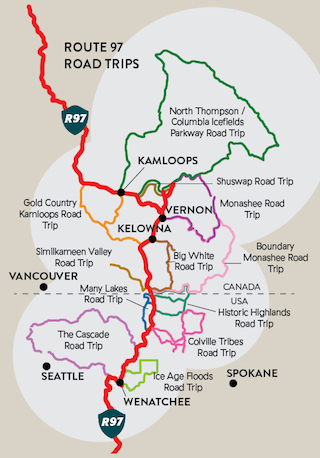 The following has been contributed by Dax Justin in partnership with ZenSeekers, exploring Wells Gray Provincial Park and #Route97.
#Route97 is a collection of experiences and destinations you will find within the Okanagan Valley and into Washington state.
ZenSeekers challenges you to explore the region this fall and have a series of stories to help make that happen.
Waterfall Hunting in Wells Gray Provincial Park with Dax Justin
Wells Gray Provincial Park in the Clearwater Valley, about a five-hour drive northeast of Vancouver, is a pristine part of the province that attracts adventure seekers looking for wild and wonderful year-round experiences – from wildlife sightings to kayaking, snowshoeing, hiking.
And seeking out its dozens of waterfalls.
You could spend a lifetime exploring the more than 5,000 square kilometres of forest, mountains and waterways here, but an autumn weekend is plenty of time to find much-needed peace from the city.
There's good reason why Wells Gray is also known as, "Waterfall Park". There are 39 named waterfalls, and my aim on a late September weekend was to discover a few of them with the help of park ambassadors and locals Chance Breckenridge and Raymond Jones.
Be curious. Explore more along #Route97 here »
I had one in particular that I just had to see – Moul Falls. Though it's the third highest waterfall in the park, it has an added attraction that I wanted to photograph and experience. The way the canyon has been carved by the cascading water, an alcove has been created so you can stand behind the falls.
It sounded like something I just had to experience.
The hour-long hike to reach it began easily enough on an abandoned road from the trailhead on Clearwater Valley Road. Signs along the way kept us moving in the right direction.
The crisp pine-scented air put me in a great mood, making me forget about the time of day and all of my deadlines.
The recent rainfall made the colours of the trees pop and I photographed the big and small things in my midst – the big vistas right down to the smallest drop of water clinging to the changing leaves.
There were also three other waterfalls on our wish list for the day: Spahats, Helmcken and Dawson. Ray and Chance promised me they were all worth visiting because each had its own beauty, whether it was the nearby vegetation or rock formations surrounding them.
The cool thing about searching for waterfalls is that you can hear them before you see them.
Grouse Creek is the source of Moul Falls, 35 metres above. We'd arrived and the trail was a little slippery and narrow, but well worth the effort to get face to face with these falls.
Be curious. Explore more along #Route97 here »
I stood there mesmerized by the sound, the force and the beauty of the moment, enjoying the mist lingering in the air and feeling the coolness of the spray on my skin.
But going behind the falls was the most magical part of all. I'd felt like I'd entered a secret little kingdom and I didn't want to leave. I lingered for as long as I could.
But Chance and Ray were ready to impress me with their bravery, wading into the river just below the falls. It was a photo opportunity I didn't want to miss.
I'd set out to see a bit of BC's wild and wet side and was completely satisfied with my first time here. But there's so much more to discover – like those 36 remaining waterfalls – so I'll definitely be back.
If You Go
About the Author: Dax Justin on Behalf of ZenSeekers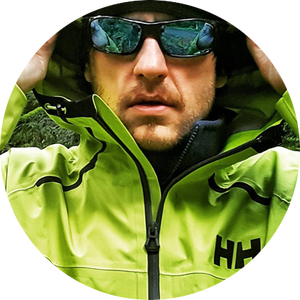 Dax Justin is a Canadian explorer, adventure/landscape photographer, visual content creator, and destination storyteller based in Alberta, Canada.
His photographic work focuses on outdoor adventure, landscapes, mountain lifestyle, people and sports. The photography captured on expeditions bring the adventure to a worldwide online audience in real time, expanding brand reach through social media and travel networks including Seekers Media.