The following has been contributed by Steffani Cameron, who is in the middle of a 5-year worldwide adventure that she is chronicling at FullNomad.com.
Waterfront Wines in Kelowna
When Chef Mark Filatow from Kelowna's Waterfront Wines Restaurant heard that I was in town researching for a travel article on the Okanagan for the world's largest cheese magazine, he invited me to come dine on a chef's tasting menu.
Naturally, I told my Aunt Eileen to gussy-up with some loose pants, then we headed in for an early dinner.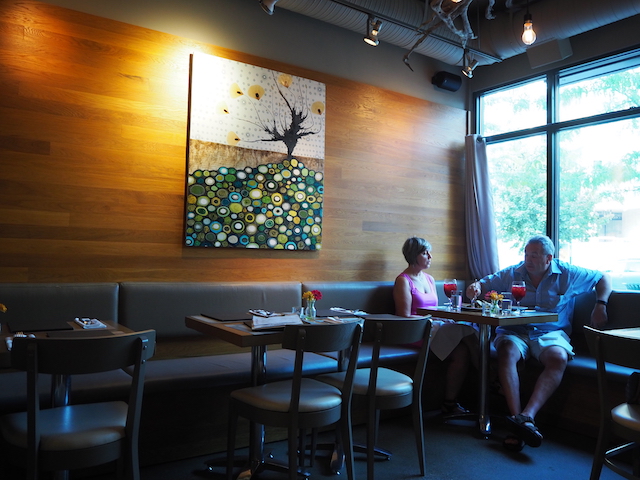 For eight years in a row, Vancouver Magazine has awarded Chef Mark and Waterfront the Gold Award for Best Kelowna Restaurant. Soon, we'd learn why. "Eat local" is the raison d'etre at this hyper-local eatery. If it's grown nearby and in season, it'll be the star of the show.
Upon arriving, we were sat at a cozy table in the small interior. Summer means they virtually double their seating with a generous outdoor patio, but you'll need to make reservations well in advance, no matter what time of year it is.
First up was a glass of Tantalus Chardonnay, a light crisp antidote to our days. Not long after came the first dish, and I've got to tell you, I could have been served just that first course and been elated. That "tomato salad" stands as one of the greatest salads I've ever had. Ever. Really. Unfortunately, it's a harvest dish and very seasonal.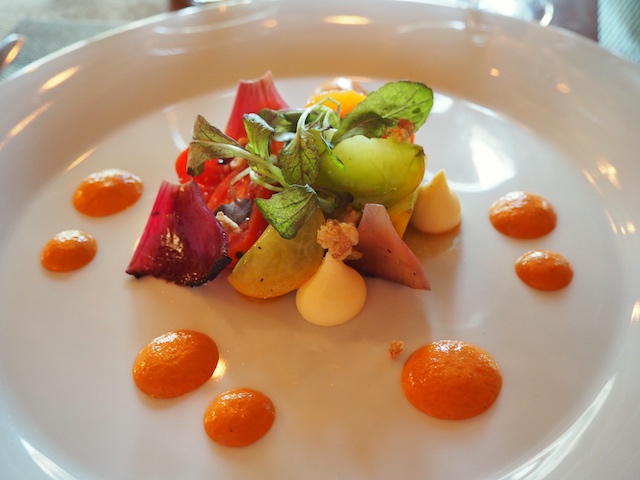 It was a composed salad of lightly-seasoned, various local tomatoes – perhaps more juicy and delicious than any I've eaten in the Mediterranean or North Africa – with slightly-charred red onion, a garnish of watercress, and some Romesco sauce (roasted tomatoes, peppers, almonds, all pureed, among other ingredients). But the surprise, for Aunt Eileen and me, was the incredible reinvention of the Kootenay Alpindon cheese.
We'd both had the same cheese on our dessert cheese plate at Quail's Gate just a week before, so we were blown away by the transformation Chef Mark and Sous Chef Nelson Daniels created. They melted the Alpindon down, added milk and egg to create a custard, then piped the transformed cheese into little rosettes to accompany the salad. They became a semi-firm cheese, and the sumptuousness blew our minds. We couldn't stop talking about those rosettes and how they played off the sweet acidity of the local tomato medley.
Chef Nelson said he felt it largely came down to the quality of tomatoes they were buying. Without that, none of the rest of it would matter. And he's right.
For the second course, we received sautéed steelhead trout filet with confit potatoes, a miso Hollandaise, and BC prawns. With neither of us big seafood fans, this was the course we worried about, but we both thoroughly cleaned our plates! Normally, the dish comes with corn gnocchi, which I'd love to try sometime too, but the potatoes were a gluten-free option for my aunt's needs.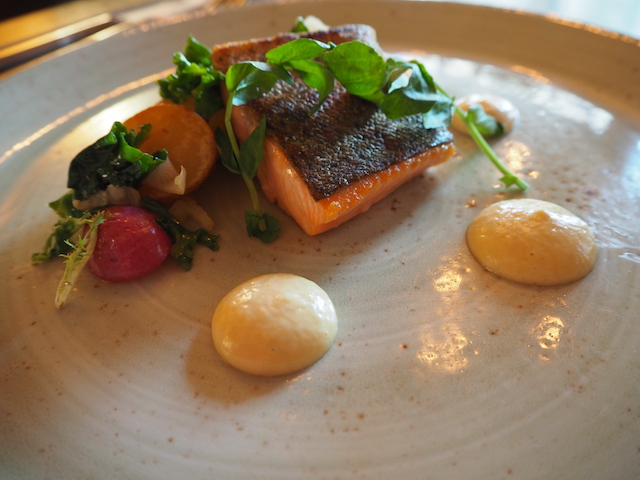 Next up was a dish that reminded me of the two months I spent in Oaxaca last year, thanks to all the Mexican influences. It was the Sterling Springs Chicken Duo, or chicken two ways. First, a crispy, fried chicken breast. Tasty, but simple and clean flavours. Next was the roasted thigh, which was where the party happened, thanks to pumpkin-seed mole and a complex palate going on. It was topped with a fermented slaw. The whole thing sat in a delicious puree of black beans that, I'm sure, had a healthy helping of fat in it, the traditional Mexican way.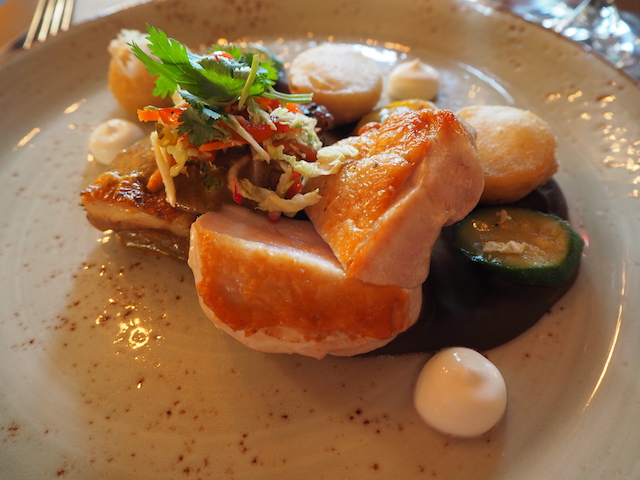 The vegetable component included sautéed zucchini and crazy-delicious corn fritters. A simple sour cream completed the plate. Anyone who's ever been lucky enough to dine in Oaxaca knows it's one of the world's great culinary capitals, and I was thrilled to be surprised with this local course using Oaxacan influences. It totally took me back to Central Mexico, but also felt quite elevated in comparison.
Finally, it was dessert time. Know what I said about that tomato salad being such a high point I could've walked away completely satiated? Well, missing the "Oaxaca comes to BC" plate would have been a crime, but the dessert, another wow.
Given Aunt Eileen is celiac, our whole menu was gluten-free. The dessert, a menu regular, is gluten-free normally too. Called the "Italian flourless hazelnut cake," it features house-made hazelnut gelato, chocolate pastry cream, vermouth-poached cherries, and hazelnut praline. Creative desserts are something my aunt misses from her gluten-filled years, and she was near-giddy with this one. She vowed to return with Uncle Joe for many more in the future.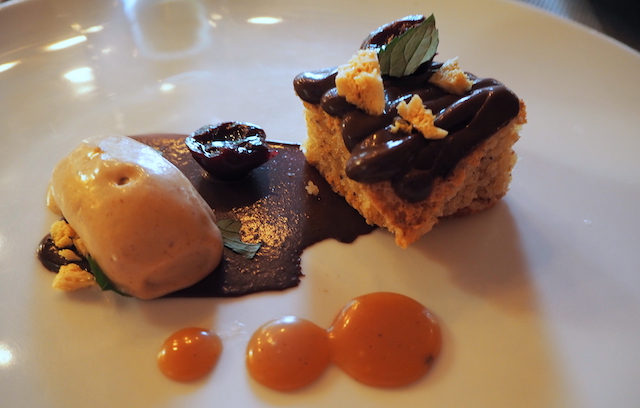 With Waterfront Wines Restaurant's small, intimate space, they have a strict "no minors" policy, which some people might object to, but it means a quiet dining experience is assured. Personally, I'm a fan of that policy for splurge meals.
The restaurant name suggests a sprawling wine list, but, it's short and hyper-local. Guaranteed, it will introduce you to a few makers you may not be aware are selling world-class wines, like Le Vieux Pin and Fitzpatrick Family. Be sure to ask your server to pour the wine best suited to your course, because the list is chosen with care for a reason.
Expect your service to be attentive and professional. While we were guests of the management, I paid attention to tables around us, and we did not receive exceptional treatment compared to other guests, and that's what I like to see. Servers proudly explained the local products they brought to all diners, and I think that's an important part of teaching us, the food-chomping public, just how great "eating local" can really be.
If you want to taste the best of what British Columbia offers, no matter what the season, I encourage you to visit Waterfront Wines Restaurant for a world-class, memorable meal, and see why they keep stealing "Okanagan's Best Restaurant" award from Vancouver Magazine year after year after year after year.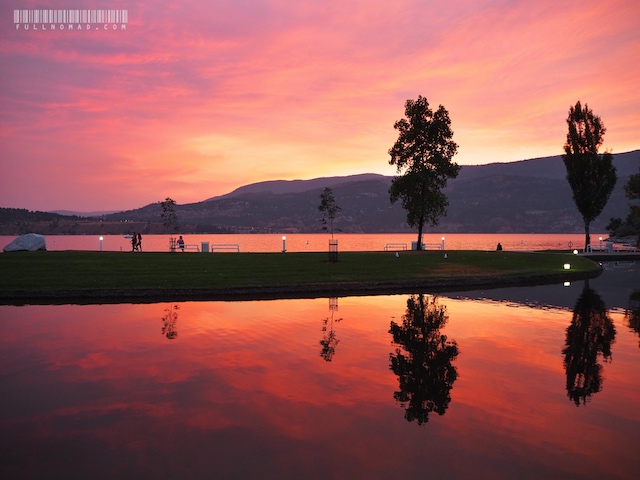 Oh, and pro tip? The restaurant is just a block from the lakefront, so if you give yourself two hours to eat dinner, you'll have plenty of time to make it for a lakeside sunset. On a proper hot day, it might be a red stunner like we saw!