Tourism New Westminster is kicking off its 3rd annual Feast on the Fraser in style with "Piva on the Pier" this evening. Guests will be the first to get a taste of Piva, the much-anticipated modern Italian restaurant opening this fall in downtown New Westminster, and they'll enjoy local craft beer and wine on the city's spectacular riverfront.
After the last sip of prosecco on the pier tonight, prepare for the main course: 10 days of 10 days of signature culinary experiences taking place throughout New Westminster from September 22 to October 1, 2017 during Feast on the Fraser.
Feast on the Fraser in New Westminster
From tastings and cocktail parties to neighbourhood food tours and long table dinners, the menu includes a Mad Men Mixer at the retro-cool Mid-Century Modern Home store, a Speakeasy Prohibition Gala at 100 Braid Street Studios, a Beauty and the Beast Tea Party and a Canada 150-themed dinner on the Fraser River, to name a few.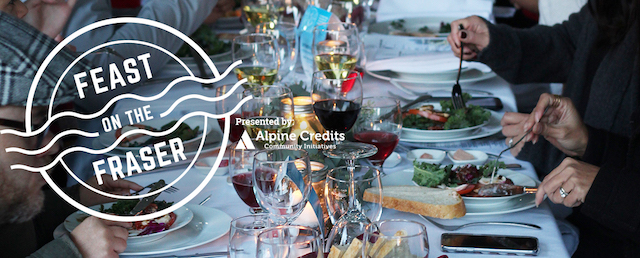 September 22, 2017
A Mad Men Mixer at Mid Century Modern Home
September 23, 2017
RiverFest
September 24, 2017
Discover Uptown Food Tour
September 24, 2017
Be Our Guest Children's Tea
September 25, 2017
Taste of Sri Lanka – Gallery Long Table
September 26, 2017
An Evening of Modern Cocktails & Canapés
September 27, 2017
100 Braid St Silk Hat Cocktail Speakeasy Prohibition Gala
September 28, 2017
Culinary Adventures over Coffee
September 29, 2017
Nasi Padang Dinner with Longtail & Freebird
September 30, 2017
Urban Foodie Tour
September 30, 2017
Wine & Dine on the Fraser
October 1, 2017
Seven Course Dinner at El Santo
Win Speakeasy Prohibition Gala Tickets
I have a pair of tickets to give away to the 100 Braid St Silk Hat Cocktail Speakeasy Prohibition Gala happening from 7:00pm to 9:00pm on Wednesday, September 27th: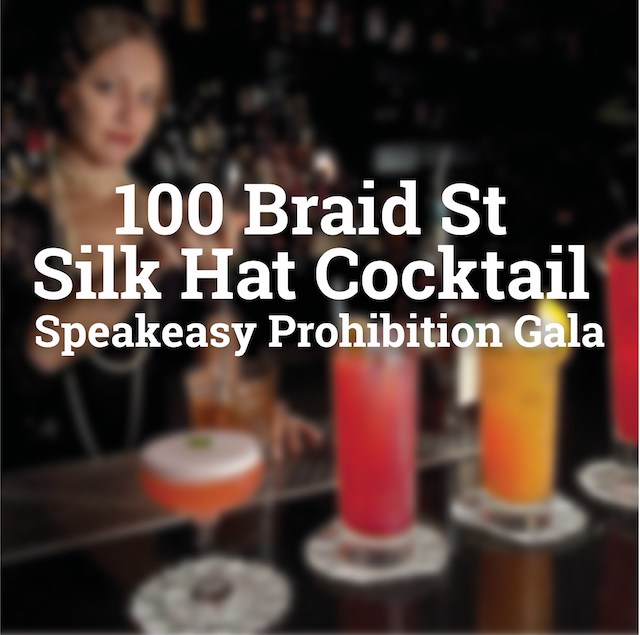 Shhhhhh…..You're going to need to be dressed and have the right password to get into the secret entrance for the 100 Braid St Silk Hat Cocktail SpeakEasy Prohibition Gala. From the outside, it will look like you're attending an Art Show but in reality, you're going to travel back in time to 1929, the year when our building came into being. The prohibition was in full force and rum runners & owners of the BC Distillery, the Reifel brothers, were providing the world with Silk Hat Cocktails produced right here in our building. Our event will harken back to the days of prohibition excess where you will enjoy the drink, food, history, and music of the underground culture of the era.
Learn how to make handcrafted contemporary interpretations of Silk Hat Cocktails with Lavish Liquid bartenders; imbibe 2 alcoholic cocktails and 2 mocktails that will pair with delectable eats from Chef Bain Van Dam of Fork & Knife Catering. You'll learn about the sordid history of our building through a short historical theatrical experience which will blur the boundaries between audience and performers and you'll get to enjoy amazing live jazz from the era with music provided by our resident vocal group, Quayside Voices. And last but not least, be prepared to get out and join our roaring twenties dancers when the live music demands you take to the dance floor.
Prepare your best 1920s cocktail party attire and enter to win tickets:
Leave a comment on this post (1 entry)
Click below to post an entry on Twitter
[clickToTweet tweet="RT to enter to win #FeastOnTheFraser Speakeasy Prohibition Gala tickets @TourismNewWest http://ow.ly/f6HS30faeYG" quote=" Click to enter via Twitter" theme="style6″]
Must be 19+. I will draw one winner from all entries at 12:00pm on Thursday, September 21, 2017.
Follow #FeastOnTheFraser via Tourism New Westminster on Instagram, Facebook, and Twitter.
Update The winner is Lindsay!