The invitation reads: "Come fully dressed as your best Zombie; think creative, blood, guts and gore!" Later this month, Improv Anywhere is hosting the annual Vancouver Zombiewalk and all are welcome.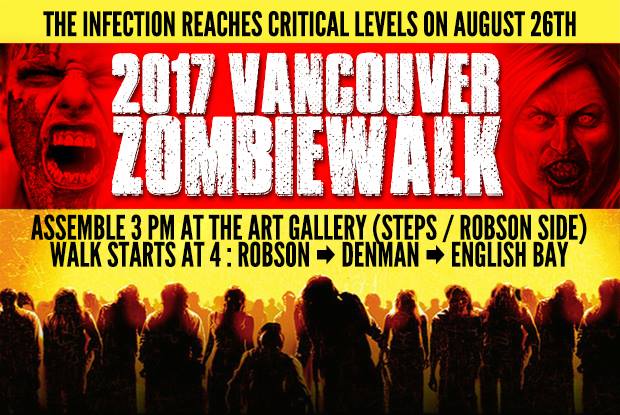 Vancouver Zombiewalk 2017
When: Saturday August 26, 2017 side). Assemble 12:30, walk 4:00pm to 7:00pm
Where: Vancouver Art Gallery (Robson side) the walk will go to Denman then English Bay. View the full route here »
It is free to participate but you can have SFX artists from Blanche Macdonald do your makeup for you. They will be on site from 12:30pm to 3:30pm. First come, first served. Coast is $25 to $65, cash, debit, or credit.
Basic Zombiewalk Rules
Be careful not to vandalize anything, ham it up for the cameras, respect and obey the police, respect the little ones.
If you require an accessibility-related measure, contact Larry Piché at zombiewalkyvr(at)gmail(dot)com or by phone at (604) 259-1569.
For more information, follow the Zombiewalk on Facebook and using the tag #ZombiewalkYVR. There will be an afterparty zombie prom, starting at 9:00pm, tickets are $10.