As we're starting to develop and savour Canadian cuisine, the cocktail scene is ramping up as well, celebrating our country through custom craft spirits that are shaken and stirred with our great nation (and its locally-sourced ingredients) in mind. Here are a couple of Canadian cocktails to try this Canada Day around Vancouver: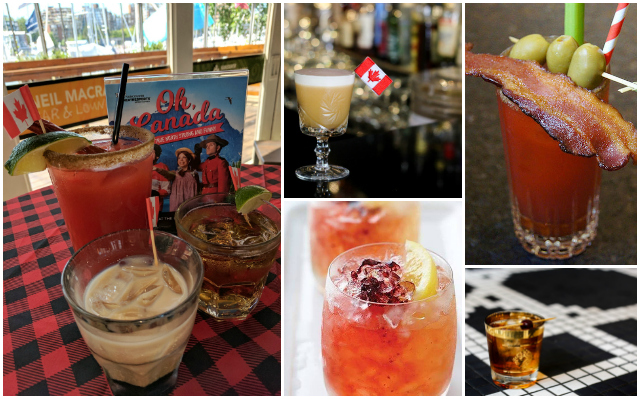 Left: Vancouver TheatreSports' offerings; Top Middle: Newark from UVA; Bottom Middle: Canadian Fix from Reflections; Right Top: Rocky Mountain Caesar; Right Bottom: L'Abbatoir's A Mari Usque Ad Mare.
Canadian Fix
Order Here: Reflections: The Garden Terrace
(inside Rosewood Hotel Georgia 801 West Georgia, Vancouver)
What Is It: Canadian whisky, simple syrup, crushed blackberries (seeds removed), 2-3 fresh blackberries and a lemon garnish.
The Double-Double
Order Here: Vancouver TheatreSports' Neil Macrae Bar & Lounge
(1502 Duranleau St, Granville Island)
What Is It: A summer refresher referencing another popular iconic Canadian beverage. However, unlike its namesake, this one packs a punch featuring Bailey's Irish Cream and Kahlua with a splash of Van Gogh Espresso Vodka served over ice
The All Canadian
Order Here: Vancouver TheatreSports' Neil Macrae Bar & Lounge
(1502 Duranleau St, Granville Island)
What Is It: Crafted from Maple Crown Royal Whisky, Canada Dry Ginger Ale with a dash of bitters – pure maple love in a glass
Rocky Mountain Caesar
Order Here: YEW
(inside the Four Seasons, 791 W Georgia St, Vancouver)
What Is It: YEW's own Jessica Hoffman has created a tasty twist on the most Canadian of cocktails with a smoky Caesar featuring Canadian Club Whiskey, Clamato, with an intensely flavoured blend of adobo peppers, maple syrup, olive juice, lime and, of course, bacon.
A Mari Usque Ad Mare
Order Here: L'Abattoir
(217 Carrall St, Vancouver)
What Is It: Inspired by the Canadian national motto – A Mari Usque Ad Mare (Sea to Sea) – this complex cocktail takes its inspiration from both east and west coast traditions. A contemporary Canadian twist on the classic Vieux Carré cocktail, the patriotic concoction features an herbaceous and aromatic blend of rum, whisky, sweet vermouth and bitters made from sour cherries and Haskap berries from the Okanagan.
Newark
Order Here: UVA Wine & Cocktail Bar
(900 Seymour St, Vancouver)
What Is It: UVA's Newark cocktail takes its name from the first provincial capital of Ontario (now known as Niagara-on-the-Lake) when it was first claimed in 1791. Inspired by one of the country's greatest fruit growing regions, Bar Manager Sabrine Dhaliwal mixes apple tea syrup, lemon juice and peach bitters to create a frothy, citrus-forward libation worthy of its namesake. And addition of maple syrup gives the drink a splash of True North sweetness.
Bonus: $5 Caesars
Order Here: All Flying Pig locations
Yaletown (1168 Hamilton); Gastown (102 Water); Olympic Village (127 W 2nd)
What Is It: The Flying Pig's dirty Caesar with Sriracha celery and olives. Just $5 all day on Canada Day, July 1st.