Are you looking for live music, dancing, family fun, and a ticket price of zero dollars? You are in luck! There is a handful of festivals around Metro Vancouver this summer and you won't have to pay a thing to get in.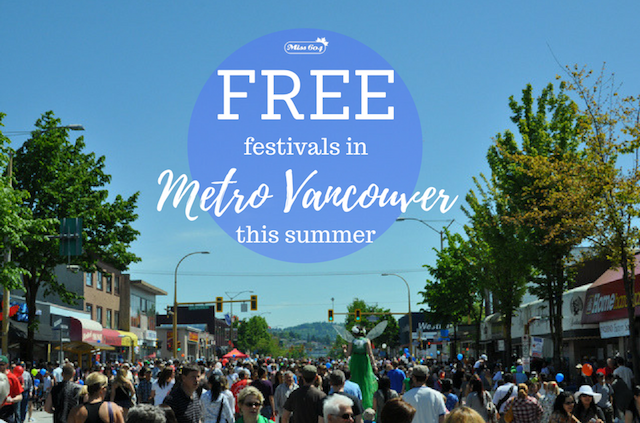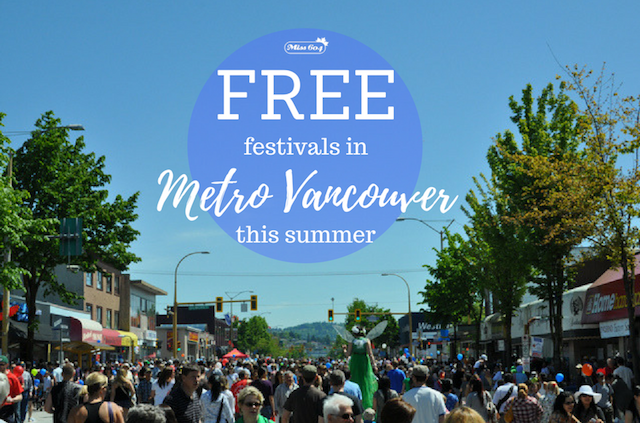 Burnaby Heights Hats Off Day
When: Saturday, June 3, 2017
Where: Hastings between Boundary & Gamma
Highlights: Hats Off Day is a huge, one-day extravaganza featuring a colourful main-street style parade followed by a big street party. The street is packed with nearly 100,000 families, friends, neighbours, and merchants each year!
More Info: Website | Facebook | Twitter
Unite! A Celebration of Canadian Multiculturalism
When: Tuesday, June 27, 2017
Where: North Point & West Promenade, Canada Place
Highlights: Engage with artisans and roaming performers, participate in a variety of interactive experiences, workshops, and creation stations as you make your way to the North Point for the main event. Popular performers including musicians, dancers and drummers. The day will finish off with a free concert on the stage at the North Point, featuring Alex Cuba and headliners Delhi 2 Dublin.
More Info: Website | Facebook
Italian Day on The Drive
When: Sunday, June 11, 2017
Where: Commercial Drive
Highlights: E Italian Day on The Drive represents the largest one day cultural street festival in the city – and perhaps in Canada – drawing over 350,000 enthusiastic attendees of all cultures and ages. It is a multi-cultural and community embrace under the Italian Day umbrella offering over 200 street participants comprised of: sponsors, merchants, retail booths, food vendors and restaurant patios, as well as stages with live music and theatre, street performers, classic cars, activities and displays, children's amusement zones and more.
More Info: Website | Facebook | Twitter
Point Grey Fiesta
When: Saturday, June 17, 2017 (Carnival June 16-18)
Where: Trimble Park (2250 Trimble St, Vancouver)
Highlights: The Point Grey Fiesta is the community's annual start-of-summer event for families and friends. Starting with a Saturday parade on West 10th avenue, the Saturday celebration continues in Trimble Park with stage performances, activities and exhibitors. Carnival rides in Trimble Park operate from Friday to Sunday. With the exception of the carnival rides and midway games, Fiesta entertainment and children's activities are free of charge.
More Info: Website | Facebook
Lynn Valley Days
When: Friday, June 16 to Sunday, June 18, 2017
Where: Lynn Valley field
Highlights: Friday night is a gala under the big top tent; Saturday there is a family fair with carnival rides, and a dance; Sunday is a Father's Day pancake breakfast.
More Info: Website | Facebook | Twitter
Car Free Day in Vancouver
When: June 17 & June 18, 2017 and July 9, 2017
Where: Main Street, West End, Kitsilano, and Commercial Drive
Highlights: 4 festivals, 3 days, 2 weekends of community block parties, live music, and more. Main Street spans 21 blocks and will have 15 stages; West End will be all along Denman from Robson to Davie, and there will be block parties all throughout Kitsilano.
More Info: Website | Facebook | Twitter
Khatsahlano Street Part
When: Saturday, July 8, 2017
Where: Along West 4th Ave in Kitsilano
Highlights: Khatsahlano, features multiple stages showcasing more than 50 of Vancouver's top musical performers as well as the eclectic work of local artisans and street performers. This 10-block street fair, spanning from Burrard to MacDonald Street also features a wide variety of food options, bustling patios, giveaways, special activities, and licensed beer gardens. Catch The Zolas, DOA, Louise Burns, War Baby, Roots Roundup, Malcolm Jack, and more on stage.
More Info: Website | Facebook | Twitter
Carnaval del Sol
When: Saturday, July 8 & Sunday, July 9 2017
Where: 88 Pacific Blvd, North False Creek
Highlights: The largest latin carnaval in the Pacific Northwest. Live music, dancing, art, a beer plaza, a travel plaza with cooking demos, family plaza with fashion shows, kids plaza, food plaza and more.
More Info: Website | Facebook | Twitter
Honeybee Festival
When: Saturday July 15 & Sunday July 16, 2017
Where: Honeybee Centre (7480 176 St at Fraser Hwy, Surrey)
Highlights: Family fun, face painting, Beestro food, and live musical entertainment with Bee Beard Showcase and beekeeping demos to awe happy crowds.
More Info: Website | Facebook
Surrey Fusion Festival
When: Saturday, July 22 & Sunday, July 23, 2017
Where: Holland Park, Surrey
Highlights: Nelly Furtado will be headlining this year's festival and the full lineup will be announced soon. Enjoy activities, crafts, food, and demos from dozens of vendors and over 40 cultural pavilions. Over 70 performances will be scheduled on 4 stages throughout the two-day festival.
More Info: Website | Facebook | Twitter
Columbia StrEAT Food Truck Festival
When: Saturday, July 29, 2017
Where: Downtown New Westminster
Highlights: The largest one day food truck festival in Canada! Join 120,000 other attendees for this street festival, admission is free. Then, purchase snacks and meals from Vij's Railway Express, Tacofino Vancouver, JAPADOG, Flying Fish N Chipper, Feastro Taco Truck & Catering, and many more.
More Info: Website | Facebook | Twitter
Celebration of Light & Park Stage at Second Beach
When: Saturday, July 29; Wednesday, August 2; Saturday, August 5
Where: Second Beach, Stanley Park
Highlights: New this year! The Celebration of Music at Second Beach in Stanley Park taking place all 3 days of the Celebration of Light. The Park Stage at Second Beach will host areas to view the fireworks at English Bay and an array of performers along with food and drinks. Programming announcements coming soon.
More Info: Website | Facebook | Twitter
Harmony Arts Festival
When: August 4-13, 2017
Where: West Vancouver's waterfront, between 14th & 17th St on Argyle Ave
Highlights: Details coming soon for the 27th annual event. All but two events are FREE. Enjoy visual art exhibit, art market (two weekends), outdoor concerts on two stages, licensed beachside restaurant spaces in the heart of the action, variety of food vendors and delicious treats, drop-in art activities for both kids and adults.
More Info: Website | Facebook | Twitter
Kaleidoscope Arts Festival
When: Saturday, August 12, 2017
Where: Town Centre Park, Coquitlam
Highlights: Featuring Bif Naked, The Matinee, and more live entertainment. Savour the flavours of the local food truck and craft brew scene, enjoy the very best of mucic and dance, and check out the handiworks at the artisan fair.
More Info: Website | Facebook | Twitter
Have more to add? Send in your event and festival info for a free listing in Miss604's monthly event roundup or to be included in this post.