Red Truck Beer is bringing back its Truck Stop Concert Series for a third year, with three summer outdoor concerts live from East Vancouver's historic Brewery Creek neighbourhood.
Red Truck Beer Summer Concert Series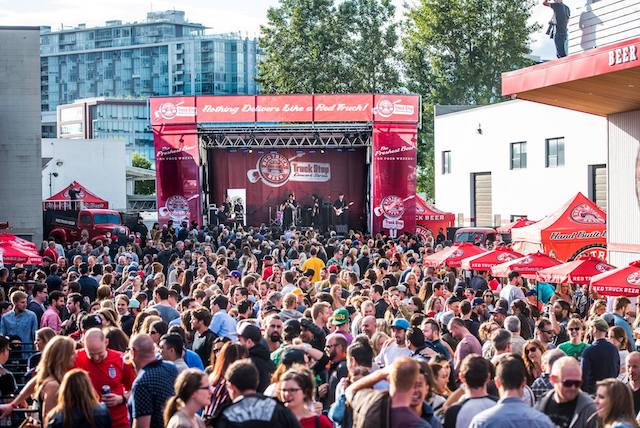 This year's schedule will launch with a June 17th synth-pop show headlined by Australian legends Cut/Copy. Cut/Copy are a festival favourite who'll be playing classics from albums like In Ghost Colours and Free Your Mind along with tracks from their upcoming album.
On July 15th, the country and Americana showcase takes over with Drake White and the Big Fire at the top of the poster. This Alabama-raised and Nashville-based singer came up the hard way, working in construction while he chased his music dreams. With a top-5 debut album and a series of sold-out shows under their belts, they're sure to light up the concert series in July.
The series will finish on August 12th with a soul and funk themed bill led by the mighty Lee Fields & The Expressions. Nicknamed "Little JB" because of his vocal and physical resemblance to James Brown, Lee Fields has been a soul mainstay for nearly 50 years, and he's still going strong, bringing deep down funk and soul to stages across the world. It's going to be a soul explosion when he hits the Red Truck stage.
Each event will feature two stages for non-stop music, along with food trucks and free-flowing delicious craft beer.
Also on Stage
This year's headliners will be supported by great local and Canadian talent, and confirmed support slot signings include: Youngblood and Band of Rascals on June 17th; The Dungarees, Chris Buck Band, Kristin Bunyan, and Sykamore on July 15th; and Vince Vaccaro, and The Real Ponchos on August 12th.
Each show also has one opening slot reserved for the winner of the Artist Submission contest. Unsigned local acts can submit their demos for a chance to be part of the bill and show off their music in front of 1,500 music fans. Beer tickets are also available for purchase online before show day to make sure that you're always in the fast lane at the beer tent.
Tickets
General admission tickets are $35 for each show and go on sale at 10:00am on April 21st. Red Truck offers two ways to beat the traffic with $75 transferrable Tailgate Passes that are good for admission to all three shows, and $25 Early Bird single show tickets available from 10:00am April 18th until 10:00am on April 21st to truckers who've signed up for express concert news delivery.
Music fans can get the most up to date concert line ups and ticket news online and can sign up to be eligible for early bird tickets.
Follow Red Truck Beer on Twitter, Instagram, and Facebook for more information.